Balsamic vinegar is most certainly one of the top Italian ingredients that can change everyday foods into a unique, mouth-watering experience.
Original Balsamic Vinegar is made from the reduction of grape juice, usually Trebbiano or Lambrusco grapes. The rich, dense liquid that derives from this reduction, called must, is then put into barrels for several years to age. The minimum stay in order to receive the DOP status (which stands for protected origin of the product) is 12 months. Under that period balsamic vinegars are not to be considered traditional. Ageing can go up to 18, 25 years or even more, and generally each threshold has a specific labelling.
Traditional balsamic vinegar holds two specific typical denominations, which are: Aceto Balsamico Tradizionale di Modena and Aceto Balsamico Tradizionale di Reggio Emilia. If the standards required to acquire the specific regional denomination are not met, it means the product is an imitation and therefore cannot be labelled accordingly. Usually traditional balsamic vinegar is quite expensive and that is the reason why, in time, many alternatives have been created.
What we generally find on supermarket shelves indicated as a balsamic glaze or condiment is usually normal vinegar with the addition of sugar, caramel and other chemical thickeners. Although the variation in price can be consistent, there is absolutely no comparisons with the traditional and genuine product, which can be a great ally in the kitchen, helping you create some interesting and delicious balsamic vinegar inspired recipes!
Here are our top 5 balsamic vinegar recipes for you to try at home and enjoy
 1) Parmigiano Reggiano and Balsamic Vinegar Antipasto
This is an extremely easy but all-time favourite Italian-style antipasto. It takes virtually no preparation but absolutely serves it's purpose and is as tasty as it can get!
All you will need is:
Method
Once you have prepared the chopping board, place the cheese on it and cut a few, chunky flakes. Organize the flakes all over the board in a stylish manner but keep half of the cheese intact, with the cheese cutter well thrust in the crust, as a decoration. Drizzle some balsamic vinegar over the chopped flakes and put the rest in a couple of small, white, ceramic bowls for your guests to dip the cheese in. Here is your extra-easy but show-stopping appetizer!
2) Mozzarella and Tomato Caprese with Balsamic Vinegar

A delightful and refreshing starter, this is one of our favourite balsamic vinegar recipes – great for a summer dinner or to eat as a quick and healthy lunch.
For four people you will need:
Four medium sized mozzarella balls (preferably fresh ones and not the dry, ready-made kind)
Four to six big, ripe salad tomatoes
Aged balsamic vinegar (or even balsamic glaze this time)
Extra virgin olive oil
Salt and pepper
Fresh basil
Method
Chop your tomatoes and slice the mozzarella cheese then place it on a platter. Sprinkle with salt and pepper and drizzle with olive oil and balsamic vinegar. Cut up a few fresh basil leaves and add as decoration. This dish is best when served chilled.
3) Grilled Salmon with Roasted Butternut Squash and Parsnip in Balsamic Vinegar
This is the perfect main course for a healthy and balanced meal. The omega3 contained in the salmon are absolutely essential for a nourishing diet and the butternut squash and parsnip are full of vitamin D.
For four people you will need:
4 chunky salmon fillets
1 tablespoon fresh dill
Salt and pepper
Olive oil
1 big butternut squash
6 parsnips
Balsamic vinegar
Spring onions
2 lemons
Thyme, marjoram, lemon grass.
Method
First massage the salmon fillets in olive oil and sprinkle them with salt and pepper. Chop up the spring onions and the dill and cut the lemons in quarters. Cut up four sheets of aluminium foil and place the fillets on them covered with the spring onions, dill and two quarters of the lemon. Make a parcel out of the aluminium foil and cook for about 15 to 20 minutes at 200°. For the vegetables you will put together a separate parcel, chop them up into medium sized squares and discs and season them with abundant olive oil, thyme, marjoram, lemon grass, spring onions and salt and pepper. Cook this parcel at 200° for 20 to 30 minutes, checking every 5 minutes after 20 minutes have passed. Place your roasted salmon, butternut squash and parsnip on a large plate, take your balsamic vinegar and drizzle copiously over both the fish and the veggies. Enjoy!
4) Homemade Balsamic vinegar Gelato
What could possibly feel better than making your own home made gelato with a little twist? This easy recipe will win over any sweet tooth and it will leave them guessing what that unusual, tasty flavour is! You will need an ice-cream maker for this recipe.
For a medium batch you will need:
500 ml. of whole milk
3 egg yolks
30 grams brown sugar
100 ml balsamic vinegar
Ice-cream thickener
Vanilla extract
Method
First, mix the milk with the thickener and the vanilla extract and bring to a boil. In the meantime, beat the eggs with the brown sugar then slowly add them to the warm milk. Place the mixture in a casserole and cook it bain-marie style. When it will veil a wooden spoon it will be time to take it off the stove. Let it cool while you reduce the balsamic vinegar then add it to the mix and place everything in the ice-cream maker. Once it is ready, serve with fresh strawberries dipped in balsamic vinegar for a decadent experience!
5) Roasted Brussel sprouts with balsamic vinegar, parmesan, pancetta and pine nuts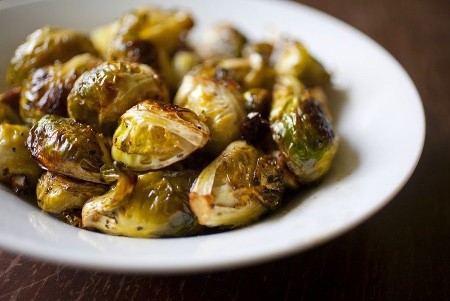 For 3-4 people you will need:
500g Brussel sprouts halved or quartered
2 tablespoons extra virgin olive oil
2 tablespoons grated parmesan
1 tablespoon diced pancetta
1 tablespoon pine nuts
Balsamic vinegar for drizzling
Method
Preheat oven to 220º, trim Brussel sprouts and cut into halves or quarters depending on size. Put sprouts in a mixing bowl and toss with olive oil.
Arrange sprouts in a single layer in a roasting pan and roast for 20 minutes, turning occasionally or until they are golden in colour and slightly crisp.
When sprouts are nearly done separately sauté the pancetta in a pan until crispy and toast the pine nuts in a dry pan until barely starting to brown.
Put cooked sprouts back into a mixing bowl and toss with Parmesan cheese. Arrange on a serving plate and sprinkle with pine nuts and pancetta.
Drizzle and toss with balsamic vinegar, serve hot.
Buon appetito!
If you are looking to buy aged balsamic vinegar online take a look at our blog post The Health Benefits of Balsamic Vinegar where you can find out why it's so good for you. There you will also find lots more information about the types of Balsamic Vinegar we sell.
Read more about our wonderful balsamic vinegar supplier Giuseppe Giusti here.