Balsamic vinegar is an original artisan product that hails from Modena and Reggio Emilia in Italy. Made from white, sweet grape, it is simmered to a concentrate (known as must) before being left to ferment in wooden barrels: much like wine. The must is moved between different wood barrels over the years of fermentation, so it can absorb the flavours of the various woods – these include mulberry, oak, cherry and ash. The minimum fermentation time to receive DOP status  is 12 months but ageing can continue to 18 or even 25 years. The result of the fermentation is a dark brown, glossy, syrupy texture that is intensely flavoured and ideal for salad dressings and various cooking sauces.
History of balsamic vinegar
History has it that the first recording of balsamic was in 1046, when the Holy Roman Emperor Henry III was given a small bottle of the vinegar when passing through Reggio Emilia on his way to his coronation. For many centuries, balsamic vinegar remained a secret speciality in the Modena and Reggio regions, with barrels often produced at the birth of a child and given as a wedding present many years later. It wasn't actually until the 1980s that it was recognised internationally and spread throughout the world.
What are the health benefits of balsamic vinegar?
Balsamic vinegar is a healthy alternative to many salad dressings and is packed full of natural health benefits that are derived from the grape juice. These health benefits include:
1. Lowering of cholesterol
One of the most documented health benefits of balsamic vinegar are its cholesterol lowering properties. It is said that the antioxidants found within the vinegar target the toxic cells that can heighten your cholesterol levels.
2. Weight loss
Studies have found that the compounds found within vinegar can help make you feel fuller for longer, thus assisting with weight loss. Balsamic vinegar is also a fat-free alternative to other flavouring agents such as butter or other salad dressings.
3. Regulates blood sugar
Balsamic vinegar is a diabetic-friendly product that has been found to help regulate blood insulin levels over several hours.
4. Aids digestion
Balsamic vinegar contains probiotic compounds that can help with digestion – these compounds can also help boost your immune system.
5. Reduces hypertension
Studies have shown that hypertension can reduce after consuming vinegar over a long period of time.
What balsamic vinegars do we offer?
At Vorrei, we're passionate about sourcing the highest quality of balsamic.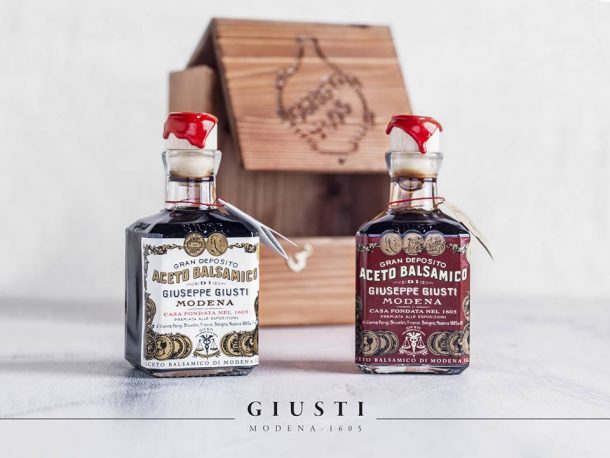 Our balsamic producer is Giuseppe Giusti, based in the vinegar's birthplace of Modena. Giuseppe's family have been producing balsamic vinegars for seventeen generations – since 1605 – and have won many awards over the centuries. They were also the authors of the first documented recipe for balsamic vinegar!
You can learn more about Giuseppe on the product page of our range of balsamics vinegars (featured below).
Free of artificial preservatives, colourants, sugars or extracts, our vinegars are full of the health enhancing benefits mentioned above.
Giusti White Vinegar £12.50
See our full range here
Balsamic recipes
Inspired to use balsamic vinegar in more of your dishes this year? Take a look at our other blog post on balsamic vinegar recipes.
Pin for later: