So it's back to school time…back to routines and 'proper meals' and back to wondering what on earth to cook tonight!
At the end of a busy day the last thing you want is to be slaving over the stove; meals must be quick and easy, ideally please kids and adults alike and of course, as healthy and filling as possible.Pasta has to be one of the easiest fixes for a quick week-night meal. It can be a healthy dish if served with a healthy sauce and there are plenty of great variations on the theme! Here are our 5 favourite school night pasta recipes – we hope you'll find them useful!
1. Spaghetti with Fishy Sauce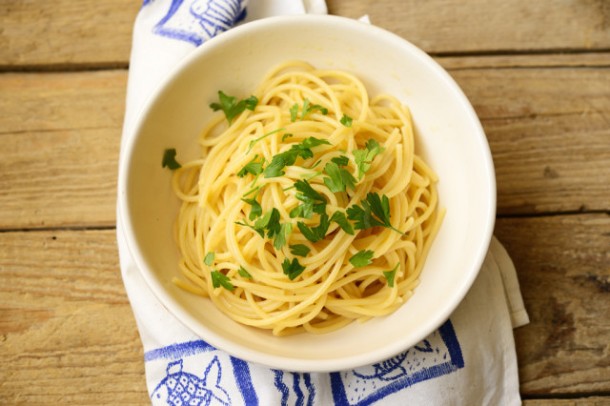 Think your kids won't eat fish? Think again…just tell them that their spaghetti sauce is ancient Roman ketchup – how cool is that?! Our traditional anchovy sauce was really popular in Roman times when it was known as 'Garum'; the Romans splashed it on all types of food to add incredible flavour. You'll only need a few drops, mixed with some extra virgin olive oil to create a quick, super-tasty and healthy sauce.
The grown-up version of this recipe includes parsley…a herb which doesn't have many young fans, so maybe leave it out of the recipe which you can find here.
What you'll need:
Good quality Gragnano Spaghetti
Traditional Anchovy Sauce
2. Penne Pasta with Tomato Sauce and optional hidden veggies
This is one of those 'cooking from scratch' pasta recipes that couldn't be easier. If you've read recent reports about the added sugar and salt in ready-made jars of pasta sauce, you'll know that although they make an easy meal they have lots of hidden nasties. It's pretty straightforward to make your own sauce with a can of the best plum tomatoes you can find (we recommend the San Marzano variety which are sweet and tasty). Just follow our recipe and if you would like to add extra veggies, just grate in some a carrot and half a courgette with the onion and fry gently until soft before adding the tomatoes. You can also whizz up the tomatoes in a blender if the kids prefer a smoother sauce.
You can use any kind of pasta with this recipe – there are so many different shapes and sizes with wierd and wonderful names! Have a browse of our selection here.
What you'll need:
Good quality Penne pasta
3. Snail shells stuffed with cheese (and just a little spinach)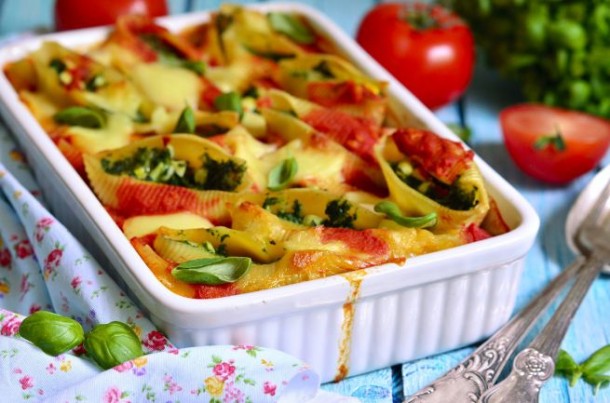 The kids can have fun helping to stuff these enormous snail shells with this delicious filling. Even spinach-resistent family members seem to love this recipe as the cheesy sauce mixed with the finely chopped spinach and the creamy topping disguise the flavour!
You can of course omit the spinach and create a filling of your choice – maybe cheese and ham, or a bolognese type sauce. The topping is just the same – a basic béchamel and a tomato passata.
Check out the recipe here
What you'll need:
Conchiglioni/Lumaconi Pasta Shells
Tomato Passata
4. Tasty Pasta Omelette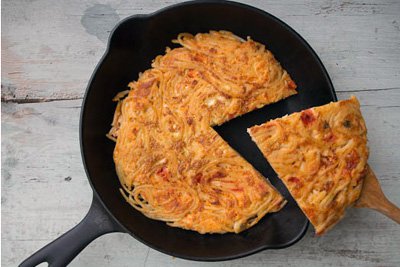 Whether or not you have any leftover pasta to use for this recipe doesn't matter as it's so easy just to cook up a quick pan of any pasta left in your cupboard. Our recipe is for a basic spaghetti omelette with some cooked ham, but you can add any of your family's favourite ingredients to add flavour. We suggest sundried tomatoes, mozzarella (or any leftover cheese you have left in the fridge) or chopped olives.
What you'll need:
Spaghetti (or any type of pasta)
5. Creamy Pesto and Chicken Pasta
This is a one of our favourite quick and easy pasta recipes that both kids and adults love. Its really just a case of cooking the chicken and then throwing all of the ingredients together in a pan!
This dish can easily be made veggie by taking out the chicken or by substituting it with an alternative such as Quorn.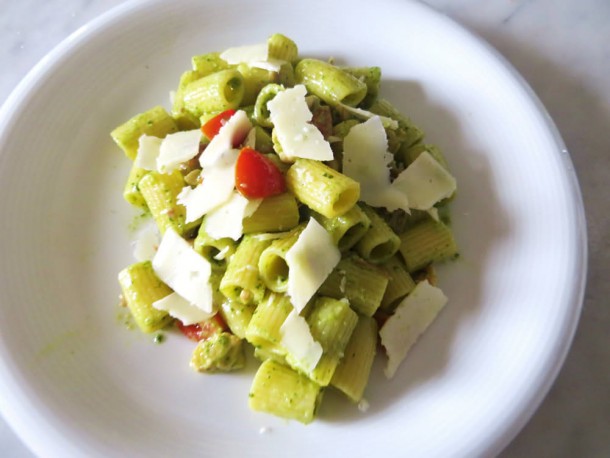 What you'll need:
Rigatoni type pasta tubes (Penne are fine too)
Jar of basil pesto
Buon appetito! If you like the sound of these pasta recipes do scroll through the many recipes on this blog. Take a look too at the range of pasta sauces we stock, they are all without any added sugar and extremely low in salt and you literally can just empty them into the cooked pasta and stir to create a delicious meal!