These gorgeous, huge pasta shells, known in Italian as Conchiglioni (Big shells) or Lumachoni (Big Snails) can be stuffed with all manner of fillings to make a hearty main evening meal for all of the family.
This recipe is meatless but you can of course use a cheese and ham or ragu' sauce to fill the pasta shells too if you prefer.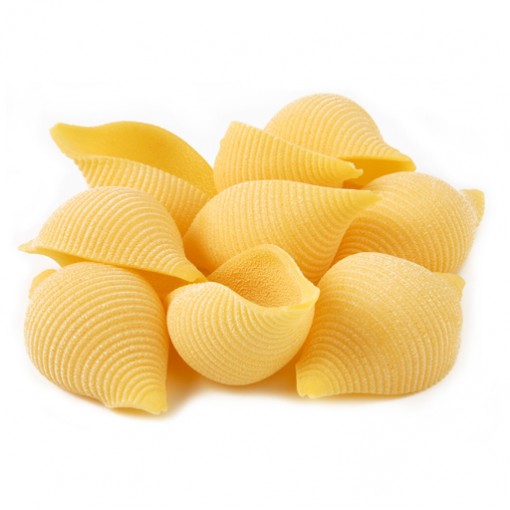 Ingredients for 4 people
300g Conchiglioni/Lumachoni (large pasta shells)
500g spinach (you can also use frozen)
400g Ricotta cheese
60g grated Parmesan cheese
1 organic free range egg
1 small bottle of tomato passata
250ml of Bechamel sauce 
Salt & pepper
Extra virgin olive oil
1 clove of garlic
Method
Step 1. Wash the spinach and cook in a pan with a little water, then drain, squeeze and put back in the pan with a drop of olive oil and a clove of garlic (remember to remove the garlic before stuffing the shells).
Step 2. Cook the pasta shells for half the recommended time on the packet, so that the cooking can be completed in the oven, then drain and let dry on some kitchen roll.
Step 3. In a bowl place the ricotta cheese, the spinach, one egg, Parmesan and salt and pepper, mix well.
Step 4. Heat the tomato sauce in a pan and season with oil, garlic, salt, pepper and a little basil.
Step 5. Stuff the pasta shells with the ricotta and spinach mixture and place them in a baking dish which you will have already have lined with a layer of the tomato passata and little of the Bechamel sauce. Cover the shells with the remaining sauce and a the tomato passata.
Step: Bake in preheated oven at 180 ° C for 30 minutes. Cover with foil for some of the cooking time if you don't like the pasta too crispy.
Buon Appetito!