An easy and delicious recipe that combines one of the most famous traditional puddings with a unique Southern Italian flavour – Apple pie with bergamot marmalade. This marmalade with an intense flavour, sweet and tangy at the same time, is a perfect ingredient to add some Mediterranean flavour at your apple pie!
Ingredients for the Apple Pie with Bergamot Marmalade (6 portions)
For the pastry 
350g plain flour
175g butter cubed
150g caster sugar
6 tbsps cold water
Filling
1kg apples
juice of 1 lemon
85g granulated sugar
1 tbsp cornflour
2-3 tbsps Vorrei Bergamot Marmalade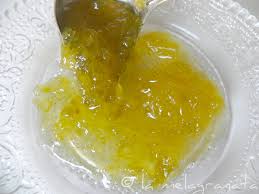 Glaze
1 tbsp milk
1 tbsp granulated sugar
Method
To make the pastry, place the flour in a large bowl, make a well in the centre and rub in  the butter and the sugar until the mixture resembles fine breadcrumbs.
Pour in the water and mix to a firm, soft dough.
Wrap in cling film and chill for 30 minutes.
Roll out half the pastry to line the pie dish, allowing the pastry to overhang the edges.
Peel and slice the apples, sprinkle with the lemon juice and combine with the granulated sugar and the cornflour. Spoon the bergamot marmalade into the pie dish, then add the apple slices and brush the edges of the pastry case with a little milk.
Roll out the remaining pastry to form the lid, then place it over the apple filling , gently press the edges to seal and make a small slit in the middle of the pie to allow steam to escape.
Brush the top of the pie with a little milk and sprinkle with the granulated sugar.
Bake for 30 minutes at 180°C.
Sprinkle the pie with icing sugar and serve hot with cream or ice cream.
Buon Appetito!
Of course you could substitute the bergamot marmalade with any one of our Mediterranean preserves such as bitter orange, citron or clementine.
You may be also interested in: Bergamot the Cool Calabrian Citrus Fruit.