Discover the Bergamot!
Bergamot are a citrus fruit, greeny yellow in colour, spherical in shape with an unusual and striking bitter taste. They are a type of cross between a lemon and a bitter orange and native to Southern Asia.
Commercial growth of this fruit  is virtually confined to the region of Calabria in southern Italy – specifically the province of Reggio Calabria.  Although the tree also grows well in Sicily and in parts of North Africa,  the oil is inferior in quality.  The Calabria region is now the largest global producer of this fabulously useful fruit.
Bergamot thrive in this area of Southern Calabria; flat land, rich in argillite (clay rich rocks)  and a climate characterized by long, hot summers, plenty of rain in the spring and autumn and mild winters. This combination of climate and soil is the secret of Calabrian bergamots, and the reason for their unique essential oil that in 2001 was given D.O.P 'Protected Designation of Origin' status. As the the name suggests, this certification ensures that products are locally grown and packaged and makes a promise to the consumer: It's a guarantee that the food was made by local farmers and artisans, using traditional methods.

Bergamot oil & its benefits
Bergamot is used above all for its essential oil and owes its fame to the success of the original Eau de Cologne created by John Maria Farina at the beginning of 1700, of which is a major component. The success of bergamot oil in perfumery helped begin its industrial cultivation and the commercial extraction of its essence in Calabria.
Ever since, bergamot oil has been an essential component in the perfumery industry, present in a large range of cosmetic products,  for its fresh and fruity notes and above all for its ability to stabilize other essences and form a bouquet of aromas.
Bergamot oil is also used in aromatherapy and to combat stress and depression. Its sweet and fruity aroma has uplifting, relaxing effects and it is also used to help with insomnia. It has also traditionally been used as an antiseptic for oily and troubled skin but care should be taken with topical use as it is phototoxic, so if it is applied directly on the skin exposure to ultraviolet light should be avoided. It can also be used to cure a sore throat by adding a few drops to a glass of water and gargling.
Probably the most interesting property of Calabrian bergamot emerged from recent medical studies conducted by scientists at the Università Magna Grecia of Catanzaro. The scientists proved that bergamot contains enzymes that have a positive effect in cardiovascular health, reducing the level of "bad" cholesterol and increasing the level of "good" cholesterol.
Calabrian bergamot also contains extremely large amounts of polyphenols,  not found in other citrus species or indeed in bergamot grown in other places.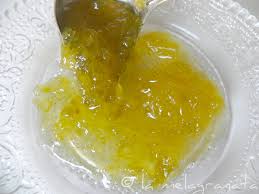 But does it taste good?
The juice of a bergamot is very particular. It tastes sweeter than lemon but a little like a sour orange – you wouldn't want to drink it!
In foods, bergamot essence is used as a citrus flavouring agent. Its peel is also used to make liqueur known as "Il Bergamino", the typical liqueur from Reggio Calabria, drunk icy cold as a digestive after a meal.  Surprisingly it is Bergamot rind that gives Earl Grey Tea its unique flavour.
Bergamot is also used to make a refreshing ice cream and more commonly, marmalade which has an intense, sweet and tangy taste. It's wonderful in tarts and cakes and delicious with fresh cheeses, like ricotta or mozzarella, and on toast but can also compliment meat and fish dishes too.