3 Easy Italian Aperitivi Recipes
Fancy having friends over but don't have the time to plan and cook a full dinner? Why not invite them for early evening aperitivi? The setting is informal and relaxed and the food is quick, easy to prepare and looks stunning – a platter of  delicious mediterranean olives, sun dried tomatoes and aubergines, a selection of bruschette topped with mouth-watering patés, some fresh crusty bread to dip into balsamic vinegar and extra virgin olive oil….. Just add the drinks – here are our top 3 aperitivi that you can easily mix at home:
1) Spritz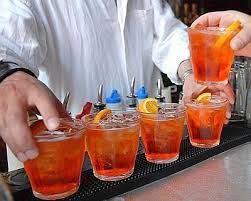 The word "spritz" on its own comes from the time of the Austrian Empire which took over the Veneto region in the early 19th century. It describes the practice of adding a splash ('spritz' in German) of water to local Venetian wines which were considered far too strong for the taste of the Hapsburg soldiers. In the 20th century, "spritz" took on its current definition: A wine-based aperitif made with bitter liqueur and a splash of soda water.
The Spritz has many local versions that vary from region to region and town to town with different amounts of white wine and carbonated water being added and indeed different spirits including Aperol (used in our recipe) and Campari. Aperol is an Italian aperitif similar to Campari but sweeter in taste. It has a relatively low alcohol content (11%) so is perfect for refreshing early evening aperitivi.
Ingredients:
3 parts Aperol Dry
3 parts Prosecco or dry white wine
3 parts soda water or carbonated water
6 ice cubes
1/2 slice of orange
Preparation:
Pour over ice and top with a slice of orange.
2) Negroni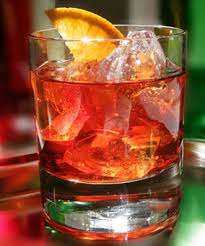 The Negroni is a short drink which originated as an aperitif and has become of the most popular cocktails in the world.
The origins of the Negroni are Italian; this cocktail was created almost by accident in the twenties by Count Camillo Negroni, a well travelled regular of the Bar Casoni, in Florence who wanted his usual 'Americano' cocktail to have a little bit more of a kick. He got the barman to add gin to the Americano instead of soda and soon everyone was asking for their American the 'Negroni' way. Here's how to make it:
Ingredients:
3 parts gin
3 parts Martini Rosso
3 parts Campari
3-4 ice cubes
1/2 slice of orange or orange peel
Preparation:
The Negroni is prepared directly in a low and wide tumbler glass.
Put three or four ice cubes in the glass, add the gin, Martini Rosso and the Campari in equal parts and mix. Decorate the glass with a slice of orange.
If you prefer to make the Negroni a longer or more refreshing drink, you can add a splash of soda.
3) Bellini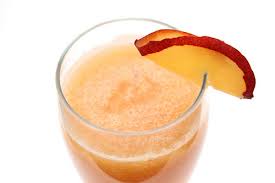 The Bellini was invented back in 1948 by Giuseppe Cipriani, owner of the famous Harry's Bar in Venice in honour of the artist Giovanni Bellini. The cocktail was a great success and became a speciality of Harry's Bar.
Originally, the Bellini was made with Champagne, the pulp of white peaches and a touch of raspberry puree that was used to give the drink a slight pink colour. For a more luxurious cocktail, the Bellini can also be prepared in the original way with champagne and becomes a 'Bellini Royale'
Ingredients:
3 parts Prosecco or Italian Brut sparkling wine
7 parts crushed white peaches
½ tsp raspberry puree (seedless)
Preparation
Place a flute or a Martini glass in the icebox.
Peel the peaches and mash up the pulp together with the raspberry puree.
Pour into the glass and add the chilled sparkling wine/prosecco.
Garnish the glass with a slice of peach or a raspberry.
Do you have a favourite aperitivo drink that you have sampled in Italy? Let us know the recipe and we'll add it to our blog!