A Christmas hamper packed full of delicious Italian food and wine will delight every person on your list this Christmas!
If the way to someone's heart really is through their stomach, a food and drink present is always a good idea! At Vorrei we love a Christmas hamper and have a brilliant selection to suit all budgets and tastes.
From luxury collections brimming with Italian delights to thoughtful easy meal gift boxes, vegetarian and vegan hampers to gluten free and organic gifts, we make sure that every one of our Italian Christmas Hampers is carefully packed and beautifully presented – just as we would like to receive it ourselves!
Of course, if you don't find that specific hamper that you are looking for, you can create your own using our range of boxes, crates and baskets or just call us and ask us to design something bespoke for you.
To give you some inspiration a little ahead of time, we've come up with the ultimate Christmas Hamper gift guide!
1) For Real Foodies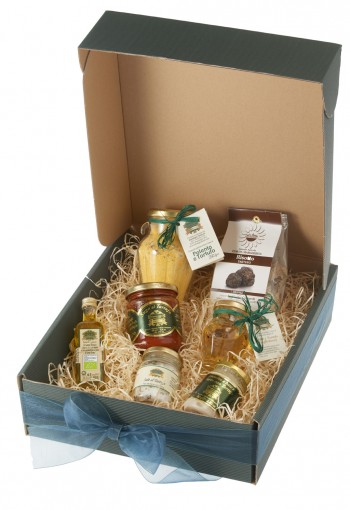 The foodie in your life will definitely appreciate a hamper packed with exquisite Italian specialities that you wouldn't find in the supermarket.  We recommend our Truffle Treasure Chest, it's full of all sorts of truffle goodies like rich truffle butter and creamy truffle polenta that are sure to impress the connoisseur!
2) For those who like it hot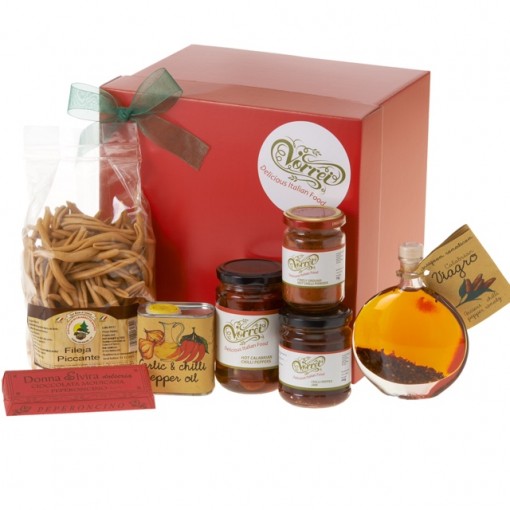 At Vorrei we are pretty passionate about chillies and our fiery red Chillissima gift box is testament to that! If you know someone who shares our peperoncino passion you can spice up their Christmas with chilli pasta and sauce, mind-blowingly hot Calabrian chilli powder, lip-tingling Viagro oil and loads more!
3) For the loved up couple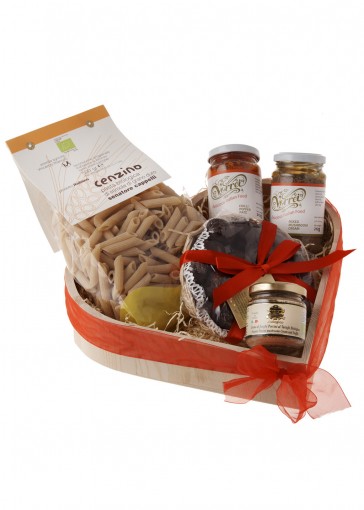 Know an inseparable lovey-dovey couple who like nothing better than preparing and sharing a delicious meal in the comfort of their own home? We think they will love our Romantic Dinner for Two hamper! Containing everything they will need to create that special meal for two and presented in a beautiful heart-shaped wooden box, it's the perfect Christmas hamper from a country that definitely knows something about love and romance!!
4) For the student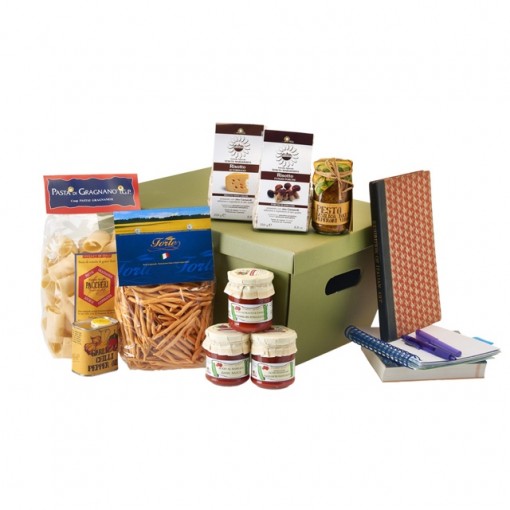 The carefully thought out Seven Day Survival Hamper will be a big hit with any student who is struggling without Mum's cooking and getting by on spaghetti hoops, or who wants to impress house mates with some proper food that's super easy to prepare. We've included jars of ready to use (but healthy) sauces, top quality pasta and some tasty risotto mixes – all packed in a strong box that will come in handy for storage later.
5) For someone you need to really impress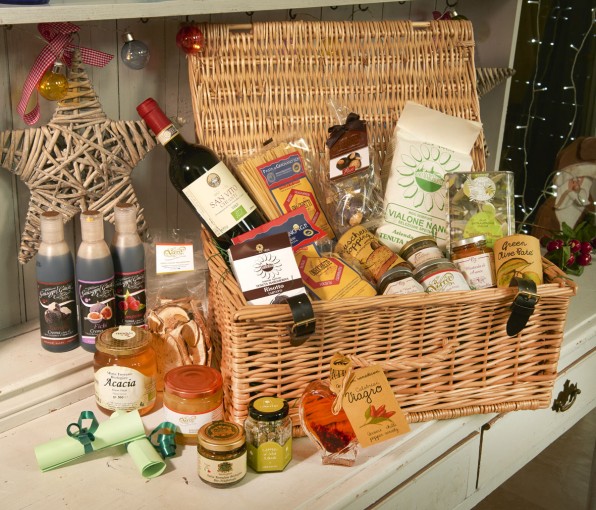 Looking for that Christmas hamper that has the 'wow factor'? Our Luxury Gourmet hamper fits the bill. This beautiful wicker basket is over-flowing with Italian goodies. We've selected 23 of our favourite products to create a hamper that will definitely impress whoever is lucky enough to recieve it! Inside they will discover a treasure chest of delights including aged balsamic vinegar, extra virgin olive oil, organic wine, sauces, oils, pate's and spreads and much much more!
6) For your veggie or vegan friends & relatives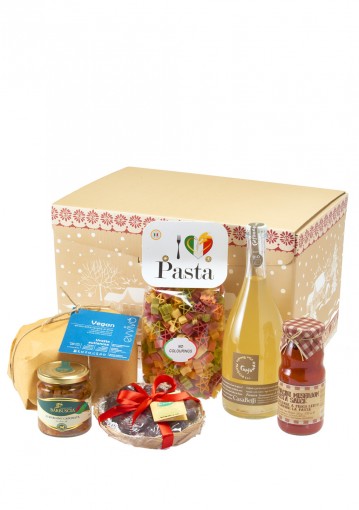 Choosing gifts for vegetarians or vegans can sometimes be challenging, but we've made it simple for you by creating a range of hampers will be appreciated by anyone following a special diet. Our ever-popular 'Vegetariana' and 'Vegana' hampers are sturdy wooden crates packed with really tasty cruelty-free food…no lentils in sight!
7) For the ladies in your life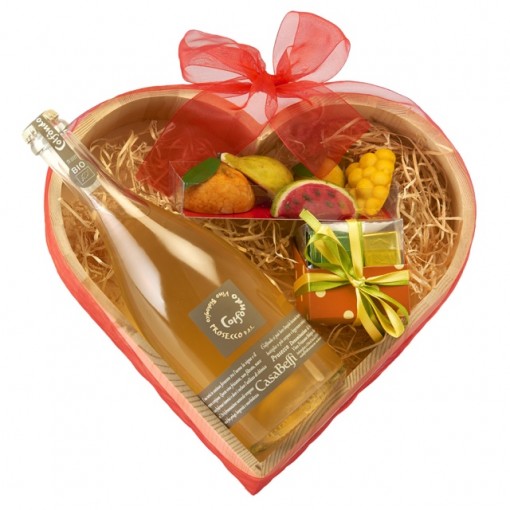 Prosecco and chocolates of course! Surprise the lady in your life with our beautiful Pamper Hamper. She's sure to love the wonderful organic fizz, Limoncello chocolates and sweet marzipan fruits inside this heart-shaped box of goodies. Mums, sisters, wives and girlfriends will all look forward to a little me-time with this thoughtful gift!
8) For the chef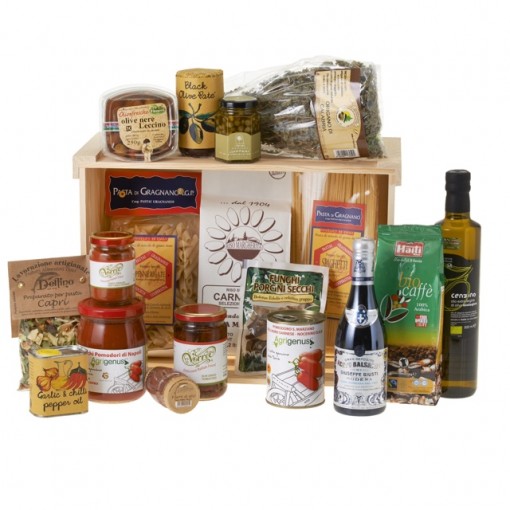 Aspiring chefs need inspiring foodie gifts and Vorrei's Italian Essentials collection will be perfect for wannabe Jamie Olivers and discerning food lovers! This wooden Christmas hamper contains all of those essential items for preparing fabulous Italian food, from fragrant Calabrian oregano to Slow Food San Marzano passato. They will be able to fill their cupboards with quality ingredients to ensure success in their Italian kitchen everytime!
10) For Papa, zio, nonno …
No more socks! Give the man in your life a gift that he'll love and actually use this Christmas! You can't go wrong with a thoughtful foodie Happy Man hamper filled with an Italian gourmet selection from multi award-winning organic Chianti to hot and spicy spreadable salami!
11) For the wine enthusiast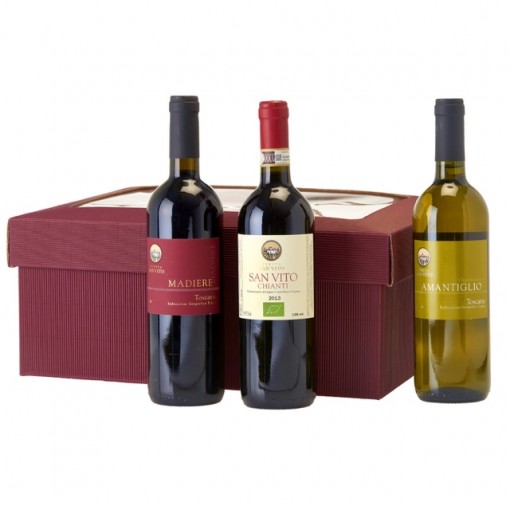 Our Tuscan Organic Wine hamper will impress even the most difficult to please wine connoisseur! The three selected wines in this gorgeous gift box come from the Tenuta San Jacopo Estate in Tuscany, there's a robust organic Chianti, a Rose' and a crisp Chardonnay. All are suitable for vegetarians.
12) For anyone with a sweet tooth!
It's pretty easy to please those people on your list who love sweet things, but why not choose something a little different this year? Vorrei's Sweet Treats Hamper contains some amazing handmade Italian specialities that you won't find in the shops! We've included exquisite chocolate figs, chestnut cream chocolates and beautiful marzipan fruits from Sicily!
13) The cheeky aphrodisiac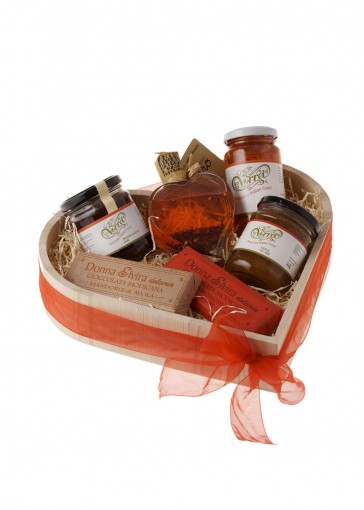 Italian food is packed with Aphrodisiac ingredients so we felt compelled to compile an Aphrodisiac Delights Christmas hamper which will make a great, fun gift! Inside this heart-shaped box your lucky recipient will discover a beautiful bottle of fiery Viagro oil, chilli chocolate, fig jam and much more to turn up the heat in any kitchen!
14) If you really can't decide…
If we haven't yet suggested the perfect gift for that one person on your list who has everything, why not create you own hamper? You can choose from a range of boxes, crates and trays to fill with goodies from our online shop. You'll also find brilliant accessories and other fun foodie gifts that are sure to satisfy even the most difficult to please!