When it comes to cooking easy, filling and tasty food on a budget you can't beat pasta! Perfect for Freshers fending for themselves for the first time, a bag of pasta plus a few key quality ingredients can be quickly transformed into a range of satisfying meals that are sure to impress! Once you get your hands on our essential pasta recipes there'll be no more excuses for beans on toast and tinned spaghetti hoops!
1. Penne all'arrabbiata
Arrabbiata literally means angry and you can make this dish as angry as you like with the addition of more chilli! It's an easy dish to prepare, is packed full of flavour and is sure to warm you up on a wintery night!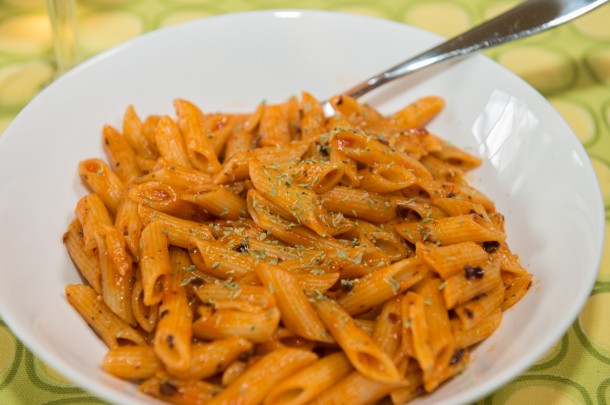 Ingredients for 2 people
200g Penne pasta
1 tin San Marzano plum tomatoes or jar of tomato passata
1 clove of garlic (finely chopped)
1-2 fresh chillies (chopped) or chilli powder or flakes to taste
Extra virgin olive oil
Method
Heat a few tablespoons of the oil in a frying pan over a low heat. Add the chilies, and garlic and cook gently for 3-4 minutes. Add the tomatoes and leave to cook for  about 15-20 minutes.
Cook the penne in a large pan of salted boiling water following the instructions on the packet. Drain the pasta and set aside a little of the cooking water.
Add the pasta to the sauce with a little of the pasta water if quite thick. Make sure that the pasta is coated well with the sauce.
Sprinkle with Parmesan or some oregano if you like!
If you don't have the time or motivation to chop chillies and garlic you can buy the ready to cook spice mixes – just add them straight from the packet to the olive oil!
2. Pasta with chick peas
This is a lovely, comforting recipe – healthy too! If time is short you could just cook the chick peas all together in some vegetable stock and add them to the pasta, but whizzing half of them up in the blender creates a creamy, dense sauce that makes a really satisfying and hearty meal – great for vegetarians and vegans too!
Ingredients for 2 people:
250g of canned chick peas
1 small onion
1 litre of vegetable stock
1 tbsp of extra virgin olive oil
2 cloves of garlic
Salt
Pinch of dried thyme
Pinch of dried oregano
180g of small pasta (like Ditalini) or broken up spaghetti
Ground black pepper
Method
Drain the chick peas and put half of them in a blender. If they are too thick after blending add some of the pasta cooking water or some vegetable stock.
Finely chop the onion
Heat the vegetable stock
Heat the garlic and onion in the oil until golden for about 5 minutes, add a pinch of salt and one or two spoonfuls of vegetable stock.
Add a ladle of vegetable stock, the whole chick peas, a pinch of thyme and oregano,  and leave to cook on a high heat for a few minutes.
Mix the blended chick peas with half a ladle of vegetable stock and add to the pan. Leave for a few minutes.
Add the rest of the vegetable stock and bring to the boil. Add the pasta and stir frequently whilst it is cooking. Add some vegetable stock if necessary keeping the mixture fairly liquid as it will tend to thicken once the pasta has cooked.
When the pasta is ready, add salt if necessary and a little ground black pepper.
Let the pasta cool down for 5 minutes with the lid on the pan and serve with a little drizzle of extra virgin olive oil on top.
3. Pasta with Broccoli
This dish is one of our favourite easy pasta recipes and SO much tastier than it sounds! The chilli and garlic oil gives the pasta the extra kick it needs and of course Mamma will be pleased that you are getting your daily serving of healthy veg!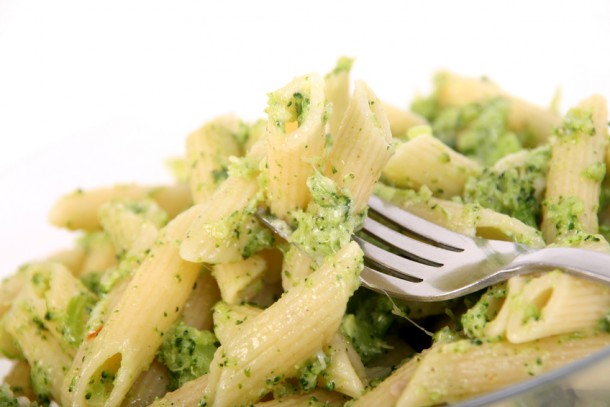 Ingredients for 4 people
2 large or 4 small heads of broccoli
2 cloves of garlic
6 anchovy fillets roughly chopped (optional)
2 small dried red chillies, chopped, or 1/2 teaspoon chilli powder
5 tablespoons of extra virgin olive oil
360g penne rigate, orecchiette or any other shaped pasta
Grated Parmesan
Method
Cut the broccoli florets into bite-sized pieces.
In a large frying pan heat the olive oil and add the anchovies, chillies and garlic. Cook on a low heat for about 5 minutes and remove the garlic as soon as it becomes golden – be careful not to burn it!
In the meantime, cook the broccoli in a very large pan full of salted water for approximately 8 minutes. After 8 minutes add the pasta to the same pan and cook until al dente.
Reserve a little of the pasta water, then drain. Add the pasta and broccoli to the frying pan and toss with the oil to coat well. Add a little pasta water if necessary.
Sprinkle with parmesan and serve.
4. Farfalle pasta with courgettes and cream
The addition of single cream to the courgettes makes a rich and indulgent sauce which goes perfectly with the Farfalle!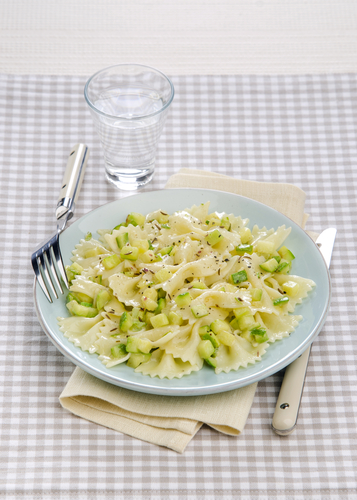 Ingredients for 2 people
200g Farfalle pasta
2 medium sized courgettes
1 small onion
1 clove of garlic
Salt & black pepper
Grated parmesan
Small pot of single cream
 Method
Cook the pasta in a large pan of boiling, salted water.
Whilst it is cooking, wash the courgettes, slice and chop into quarters.
Put 2 tbsps of olive oil in a deep frying pan and heat gently.
Add the garlic clove and cook until golden. Then add the finely chopped onion and leave to cook until transparent. Finally mix in the courgettes.
Cook the courgettes until they start to soften stirring every now and again. If you wish you can add more flavour by pouring in half a glass of white wine or a ladle of vegetable stock whilst the courgettes are softening.
Add some salt and black pepper to taste.
Drain the Farfalle and add them to the sauce. Toss in the pan over a medium heat for a couple of minutes and then add 2 or 3 generous tablespoons of cream, mix well. Sprinke with a few chilli flakes if you like a little spice and serve immediately.
5. Pasta with potatoes
This is one of the most simple Calabrian pasta recipes; it's hearty, filling and tasty – and best of all the ingredients are simple and cheap!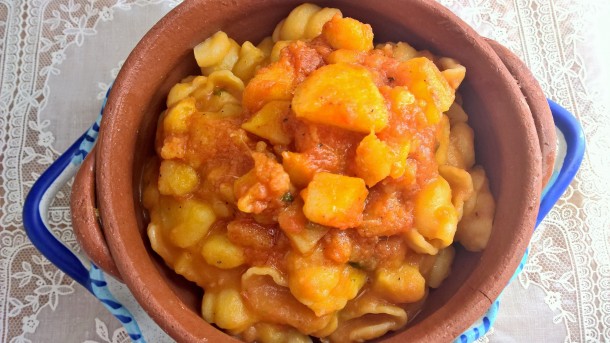 Ingredients for 4 people
400g potatoes
1 red onion
500g tomato passata
Extra virgin olive oil
Chilli pepper (powder, flakes or fresh chopped) to taste
Black pepper
Salt
300g of broken up spaghetti, mixed (mista corta) pasta or orecchiette
Grated parmesan
Method
Peel the potatoes and cut them into small cubes.
Put the olive oil in a frying pan, warm it up and then add the chopped onion and fry it gently.
Add the well-drained potatoes and cook them with the onion. When the potatoes start to colour a little add the tomato passata, the chilli powder, salt and pepper.
Cook on a low heat until the potatoes begin to soften, adding a little water if the sauce begins to dry out or become too thick.
Cook the pasta in a large pan of salted, boiling water for half of the time suggested on the packet, drain it (setting aside a little of the pasta water) and add it to the sauce to finish cooking. Again, add some of the pasta water if the sauce is too thick. Serve once the pasta is cooked through.
Sprinkle with parmesan if desired.