A Chilli Explosion
'Nduja is a very special, spreadable Italian salami typically produced in the region of Calabria (specifically in the tiny town of Spilinga near Tropea) that has a very exceptional taste and texture. It is made up of soft pork meat seasoned with pork fat, chilli and red pepper, which are all packed in a bowel casing or in a jar. It's flavour is quite interesting being a classic Italian salami product but soft and sweet at first with a powerful explosion of chilli afterwards that lingers on, giving each dish made with it a distinctive kick.
'Nduja was probably named after a French product called andoullie. This kind of salami is not soft like its close Calabrian relative, but it is typically made out of pork giblets. The Calabrian version is quite characteristic and can easily be distinguished as the preponderant taste in any dish which includes it.
Two Easy Ways with 'Nduja
As well as enjoying this delicacy spread simply on a piece of bread, there are lots of ways to incorporate 'Nduja into your cooking. Here are two easy and tasty everyday recipes. Remember that ''Nduja is quite fatty and rich, so if you decide to use it as part of a dinner or lunch course, be sure to make it the protagonist of the scene, pairing it up with simple and fresh ingredients and without adding too many extra fats apart from a hint of olive oil while preparing it.
1) Pasta C'a ''Nduja (Pasta with 'Nduja)
This recipe is said to be aphrodisiac and anti-stress – how can you resist?!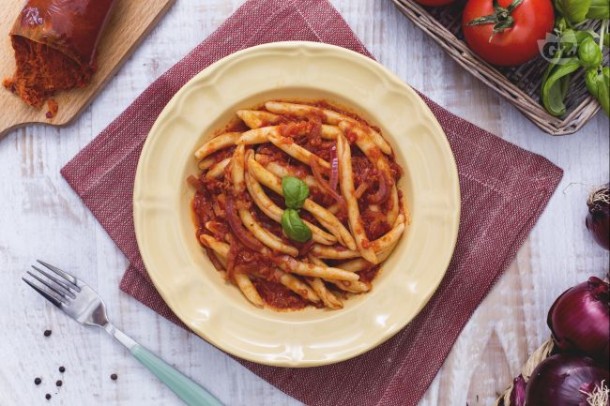 Ingredients for 4 people
400g of pasta (fileja, strozzapreti or spaghetti)
Can of San Marzano tomatoes
1 onion
Extra virgin olive oil
2 tbsp 'Nduja (but use as much or as little as you like!)
Method
Gently fry the diced onion in some olive oil for a few minutes then add ''Nduja to taste and stir together.
Add the San Marzano tomatoes turning up the heat to evaporate off some of the water in the tomatoes and then simmer for 10 minutes or so.
Cook the pasta in a large pan of salted water until "al dente", drain and and stir gently into the sauce.
Sprinkle with Parmesan if desired.
Just a few minutes for a tasty and rich main course!
2) Potato 'Nduja Gratin
Another simple but really tasty dish with just three ingredients.
Ingredients
4 large potatoes
4-6 tbsps Stracchino cheese (or Mascarpone is fine too)
'Nduja (as much or as little as you like!)
Salt
Method
Slice the potatoes thinly and boil them for a few minutes salted water.
Place the semi-cooked slices into a small casserole and alternate the slices with the cream cheese and the 'Nduja, finishing with cheese and 'Nduja at the top.
Place the casserole in the oven at 180° for about 30 minutes.
Enjoy this flavourful and spicy dish with a side of stir-fried veggies of your choice.
If you love 'Nduja, you'll love our traditional Scalda 'Nduja ('Nduja Warmer)! Hand made in Calabria, this handy ceramic set can also be used for cheese or chocolate fondue.