Risotto alla Milanese is one of those iconic Italian recipes and typifies northern Italian cuisine. It is made following the classic method for risotto, but what makes it special is the beautiful golden yellow colour that comes from the saffron.  Traditionally Risotto alla Milanese is made with a 'soffritto' that includes beef marrow – our recipe doesn't include it making it suitable for vegetarians or vegans (depending on the cheese used).
Ingredients for 4 people
1 tsp of Saffron threads
320g Carnaroli rice
125g Butter
1 Onion
80g Grated Parmigiano, Grana Padano or veggie/vegan alternative
4og White wine
Water
1 litre Vegetable broth
Salt to taste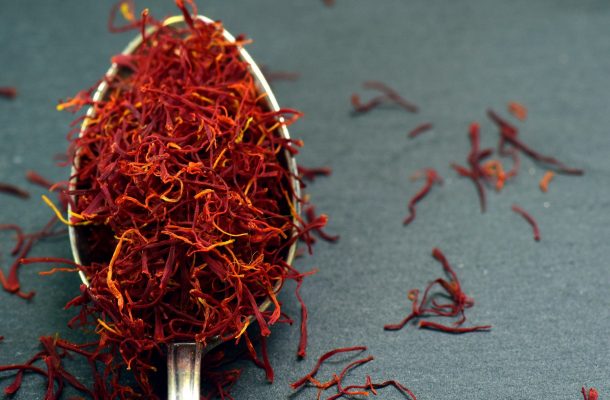 Method
Step 1.  Place the saffron threads in a small glass, pour over just enough to cover them completely, leave to infuse overnight, so that the threads release all the their colour.
Step 2. Prepare one litre of vegetable stock.
Step 3. Peel and finely chop the onion.
Step 4. Place 50g of butter (taken from the total amount required) in a large pan, melt it over a low heat, then pour in the chopped onion and let it simmer for 10-15 minutes adding broth to keep the sauce from drying, the onion must be transparent and soft.
Step 5. Once the onion is ready, pour in the rice and toast it for 3-4 minutes, so the grains will seal. Add the white wine and let it evaporate completely. At this point, proceed with cooking for about 18-20 minutes, adding the broth one ladle at a time, as needed, when it has been absorbed by the rice: the grains must always be covered.
Step 6. Five minutes before the end of cooking, add the water and the saffron threads that you had infused to the risotto, stir to flavour and dye the risotto a beautiful gold colour. After cooking, turn off the heat, add salt, stir in the grated cheese and the remaining 75 g of butter.
Step 7. Mix and cover with the lid, let the Risotto alla Milanese rest for a couple of minutes before serving hot, garnishing the dish with some more saffron threads.
Buon appetito!