Welcome to our new column of recipes and ideas (starting with delicious Neapolitan Potato Croquettes) from Zia Connie, a modern Italian Auntie with a passion for cooking!
Check our blog posts to find her latest favourite recipes and top cooking tips. But first…meet Aunt Connie!
Connie Amato is the 2.0 version of the classic Neapolitan auntie! An amazing chef, she learned her basics from Mamma Vanna and Nonna Maria, the women who shaped her cooking knowledge and her background in family traditions. Upon these solid grounds, she built her passion for the stoves, modernising her cuisine just enough to make it cool and vibrant, matching her flamboyant personality.
She is a superstar in Neapolitan dishes but also an outstanding cake designer, combining in this skill her love for food with her talented, artistic vibe. Connie is also a beautiful lady who values healthy nutrition and food choices, therefore, in her recipes, she always aims towards a balanced combination of ingredients and has a preference for organically farmed produce.
This month Zia Connie's recipe is a traditional Neapolitan savoury treat with a personal touch:
Zia Connie's Neapolitan Crocchè (Potato Croquettes).
Crocchè are a wonderful street food savoury treat that Neapolitans like to have almost at anytime of the day. You can easily find them in any friggitoria in the characteristic streets of downtown Napoli, but these fried goodies are pretty easy to make at home in a pan and they are just as delicious! So, if you are not planning a trip to the sunny city yet, have a go and try bringing a bit of Napoli into your home and onto your table!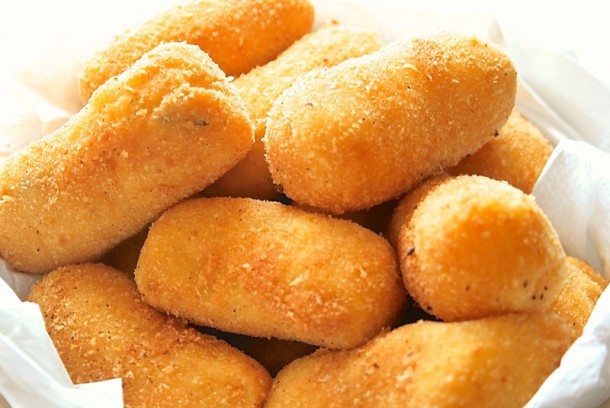 Ingredients for 4 people
5 large potatoes
3 whole eggs
500g breadcrumbs
300g 00 flour (or plain)
Salt and pepper
100g grated Pecorino cheese
About 1 litre sunflower oil or any other light vegetable oil
Connie's secret herbal mix
Finely chopped garlic
Finely chopped parsley
Finely chopped chives
5g saffron
Method
Step 1 – Place a pan over the stove with about 2 litres of water and boil the potatoes. Once ready, run them briefly under cold water to peel them with greater ease.
Step 2 – Mash the potatoes.
Step 3 – In a bowl, mix the potatoes with Connie's special herbal mix, the Pecorino cheese, salt and pepper.
Step 4 – In another bowl, beat the eggs and add half of the mixture to the potato mix. Keep the other half of the beaten eggs to dip the potato croquettes in before frying.
Step 5 – Take a small ball of potato mixture into your wet hands and roll it into an oblong, cylinder-like shape. Dip them in the flour, then in the beaten egg and after that in the breadcrumbs. Repeat until the potato mixture is all used up but retain the beaten egg and breadcrumbs.
Step 6 – Let the crocchè rest in the fridge for one hour under a damp cotton cloth.
Step 7 – When you take them out to fry them dip them once more in the egg mixture and the breadcrumbs for a thicker effect.
Step 8 – Place the oil in a tall, medium sized pan and let it heat up. Place three to four crocchès at a time and fry until they are golden brown on both sides.
Step 9 – Take the crocchès out of the pan and let them dry out on kitchen roll before serving.
Aunt Connie's cooking tip of the day
Tip 1: Double Dip
When you are frying breadcrumb coated foods such as potato croquettes, chicken pieces or any other kind, apply this simple tip: Give them two separate coatings of egg and breadcrumbs. This way you'll avoid the crust cracking open you'll also obtain a delicious, thicker, crunchier crust!