On the 17th and 18th of April, at the Tobacco Dock in East London, the Real Wine Fair took place. A two-day full-immersion wine tasting event where the best artisanal Italian wine makers were presenting their delicious, natural wine.
Natural wines: The New Frontier in Winemaking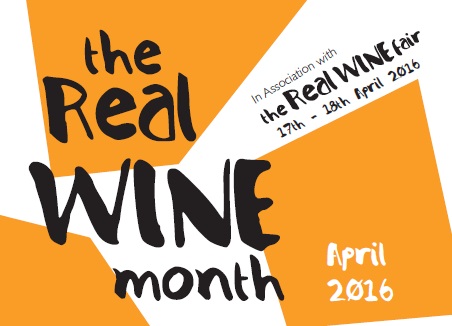 At Vorrei we take great pride in finding the best products available from Italian organic and non-organic (but still natural!) farmers and food producers. We always check for top quality and authenticity in the products we sell and are continuously on the lookout for new, non-industrial delicacies.
The same time and care is taken to choose our fantastic wines and this is why, on the 17th of April, we were there: glass in hand and ready to taste as much natural wine as we could to add some new entries to our wine list!
More than 150 winegrowers were present at the fair, presenting around 500 different wines. Geographical locations went from Austria to France to Italy and across to the US and Australia as well. All of the producers make wine the old fashioned way, with zero tolerance on pesticides, extremely low if no sulphites and a strong winemaking tradition behind them but with an eye firmly on the future.
Our Meticulous Tour of the Italian Wine Stands and the Forgotten Spittoon
We decided to begin by tasting some wines from the winegrowers we already work with. We wanted to have a chat with them and get their recommendations on new wines to stock.
Along the way we noticed the enormous spittoon cartons meant for spitting out the wine after the tasting and for pouring out the water needed to clean your glasses between different wine samples. Needless to say, we solely used them to clean out our glasses… but we were in extremely good company!
A Trusted Old Acquaintance – Fattoria San Lorenzo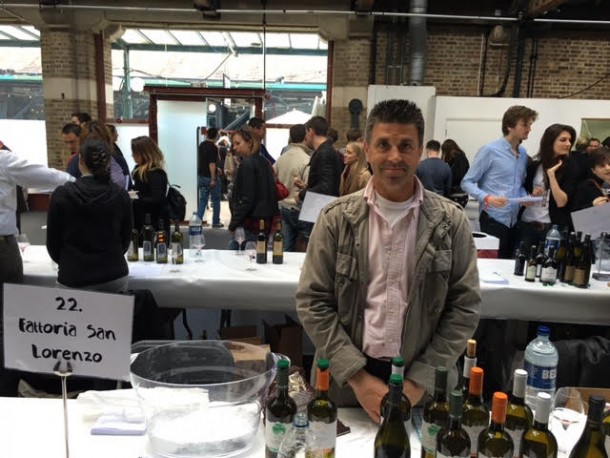 Our first stop was at the Fattoria San Lorenzo Stand, an old and trusted supplier of ours. This family run business located in the city of Ancona, in the Marche region, produces organic and biodynamic wines. Natalino Crognaletti, the owner of this amazing company, works the vineyard in a totally natural way, minimizing intervention both in cultivating the land and in bottling his delightful wine.
What we tasted:
We decided to have a taste of a few of his wines, they were:
Verdicchio dei Castelli Jesi Superiore 2012 – Campo delle Oche
A fruity, crisp and refreshing wine with a pleasant aftertaste: fragrant and amiably scented. Complex and textured with a mineral finish. Best served slightly chilled. 13.5%
Suitable for vegans and with low levels of sulphites.
Marche Bianco 2002
A savoury, nutty and taut white wine with notes of pear, peach beeswax and herbs. Quite sapid. 15%
Lacrima di Morra d'Alba 'Vigna Paradiso' 2007
This red wine was one of our absolute favourites! A rich, aromatic, rose and violet scented wine with a hint of black cherry aftertaste. Its deep red colour is a beautiful blood ruby, it is flavourful and has a graphite finish. The singularity in the production of this wine is that each vine hosts only one bunch. 14.5%
Fabulous Fatalone
Our second stop was Fatalone, Azienda Agricola Pasquale Petrera. This family from Gioia del Colle produces natural wine with only locally grown grapes. Their production is 100% sustainable and with zero emission impact. Their sulphites level is less than 40 milligrams per litre where the overall tolerance limit is 150 for red wines and 80 for whites.   Their wine ferments in steel barrels at controlled temperatures.
What we tasted:
Bianco Spinomarino – IGT Puglia 2012
This sweet, white wine is made from grapes of vines that grow in close proximity to the sea. It is very delicate and flowery and has a scent of grapes, green apples, pineapple and honey. It also has a remarkable mineral taste and a high complexity. 12.5%
Primitivo Gioia del Colle 2014
A ruby red wine with a slightly acid side. Fruity taste with notes of berries and black cherries. A smooth feel with a mineral and fresh finish. A slight aftertaste of toasted almonds. Perfect with fatty meats and rich meals. Sapid and full-bodied. 15%.
Our Biodynamic Prosecco Producer – Casa Belfi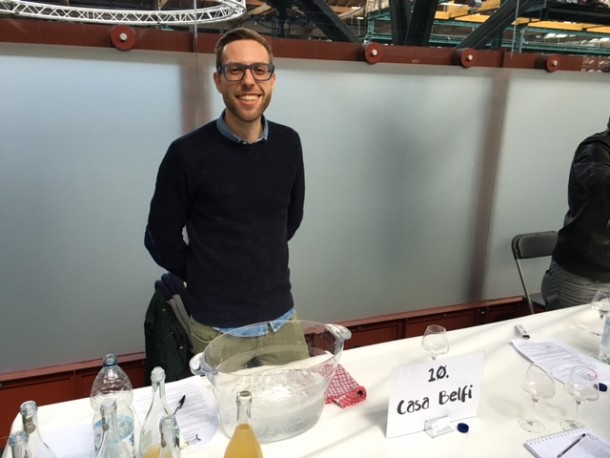 Our third stop was Casa Belfi, a Veneto winemaker with vineyards based in San Polo di Piave. The fantastic owners of this company work with green fertilizers and are about to convert totally to a biodynamic winemaking procedure.
What we tasted:
Prosecco Colfondo – Casa Belfi DOC 2012
The uniqueness of their Prosecco production consists in the cold decantation of their grapes which ferment in stainless steel barrels forming natural yeast. The yeast residue is still present in the bottle and can be shaken up changing the taste of the drink from medium fizziness to a blander one with a buttery, tangy flavour. Not your average Prosecco absolutely! The distinctiveness of its flavour relies in the all natural processing of the grapes and wine production. An unfiltered, light bodied, dry wine with flowery and fruity scents. No fining, no filtering, zero sulphites. Suitable for vegetarians and vegans. 11%
Azienda Agricola Trinchero
Our fourth stop was at the Azienda Agricola Trinchero stand , Ezio Giacomo Trinchero's company produces our amazing Barbera D'Asti in Agliano Terme. His wines are carefully produced with incredibly high standards. This results in impeccable tasting wines with a rich body and persistent flavours.
What we tasted:
Grignolino D'Asti 2012
This wine ferments in cement for a short period. It is a very young wine but not tannic. It is matured for about a year in bottles and achieves a fresh, flowery taste. Its colour is bright ruby and it is a perfect wine to go with light vegetable and fish dishes. Its sulphite level is around 30 ml. per liter, which is extremely low. 13.5%
Barbera D'Asti Vigna del Noce 2008
Rusty red colour and a herbal and dry flavour. 14.5%
Discovering New Winemakers
The rest of our tour was dedicated to new Italian wine producers we have not yet dealt with. We tasted wines from the Etna region in Sicily, the Valdobbiadene region in Veneto and the Irpinia, a region that comprises the area of Avellino, Benevento and Vallo di Lauro. We had some amazing samples of wines produced by the Foti family, il Vino di Anna, Casa Coste Pane, and Grillo e Tufiello. We sampled some (or maybe a few too many…) fantastic wines from these wonderful natural wine companies and learned about their remarkable stories. We decided give you a little insight on two of these winemakers that just sparked our curiosity for the distinctiveness of their production methods and the exceptional taste of their wines: Il vino di Anna and Grillo & Tufiello.
Il Vino di Anna – Mount Etna, Sicily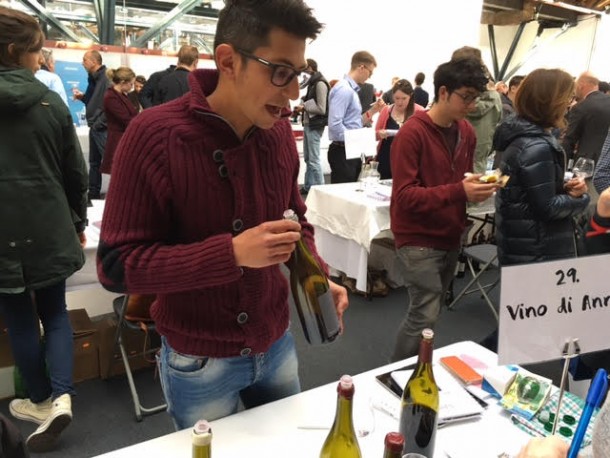 Anna Merten's vineyard extends on a very small area around Mount Etna and is situated at about 760-900 metres. The wine production is absolutely natural with no additives or pesticides. Their wine production struck us for an unusual peculiarity, which is the use, for some of the wines, of a 'Qvevri casket', a vessel made of clay in which the wine is left for a couple of months to ferment. This vessel is interred in the vineyard's soil and the inside is covered in beeswax, which is essential to the wine's perspiration. The Qvevri casket tends to preserve the taste of the natural wine which Anna and her husband Eric Narioo make without filtering or fining it. This vineyard also uses the 'Palmento technique', which means that the grapes are pressed using the ancient practice of feet pressing. If you want to give her wines a try here is what we tasted and what we thought:
Jeudi 15 Nerello Mascalese 2010
This natural wine is the full expression of what microclimate of Mount Etna means for a vineyard. This red wine is fresh and fruity with hints of cherry, strawberry and mint. A small percentage of Carricante grapes are in the wine mix. The wine has been aged in steel and it has not been filtered. 13.5%
Vino di Anna Qvevri 2013
This is a mineral red wine with a smoked, red fruit flavour. It has quite a tannic side to it and has the essential characteristics of a volcanic wine. This wine has been fermented in a Qvevri casket. 13.5%
Tenuta Grillo e Tufiello, Guido e Igiea Zampaglione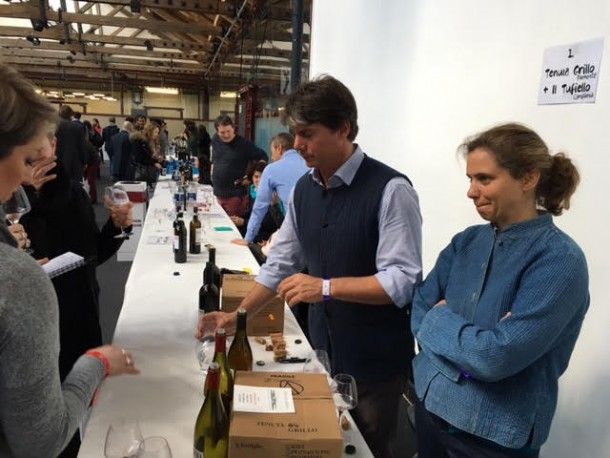 Meeting Guido and Igiea was without doubt the most interesting experience of the whole wine fair. Besides both being wonderful and friendly people, they truly have a passion for organic winemaking and take enormous care in growing their extraordinary vines.
Their estate in Monferrato, Piemonte is about 32 hectares of which 17 are cultivated with highly selected grapes. Their estate rises where in the XVIII century the Cascina Viscontina di Mordone used to be. The ground's soil had extremely favourable qualities for vine growth.
When it comes to winemaking, Guido is the kind of guy who always does what he thinks is the right thing to do and that is why he was nicknamed Pecora Nera (Black Sheep) which is also the name of one of his delicious wines! All his wines are organic and biodynamic as well as very diverse and have to be tasted taking in consideration their peculiar characteristics.
We then tasted 3 of his amazing wines and this is what we thought of them:
Cortese Baccabianca 2009
Quite tannic with a unique, acidic flavour, this white wine leaves the mouth dry and clean and is perfect with cheese. An absolute must try! 12%
Pratoasciutto 2005
Tannic and sweet, this is a wine that has to be drunk after many years since the long ripening really improves its incredible taste. According to Guido it is best after 15 years of ageing. It has deep, rich leather flavour. 13.5%
Pecora Nera 2003
This is the wine that was named after Guido and is a very unique, ruby red wine. It is made with 85% Freisa grapes, 10%Barbera and 5% Merlot. This is an unfiltered natural wine so you need to be careful not to shake it too much or the residue at the bottom will mix in the wine. Its rich ruby colour is very bright and beautiful and its taste is unique: a blend of berry fruitiness, highly mineral and a herbal aftertaste. Nevertheless, it's a fresh and fine wine with a persistent and rich finale. 14.5%
At the very end of our wine tour we had one more, very necessary stop… our beds! After all the wine tasting a good night's sleep was inevitable and as soon as we hit the pillow that was it. But we did it just for you! 😉
Check out the wines we sell on Vorrei that were on display at the wine fair and take advantage of one of our six-bottle deals on the one you prefer.