Capers (flower buds from the caper plant) are a popular ingredient in Italian cooking and give a distinctive aromatic flavour to many recipes. Caper powder is a finely blended seasoning made from sun dried Sicilian capers.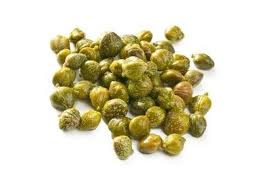 Vorrei's capers grow in the Mediterranean sunshine on the Sicilian island of Pantelleria and are the only ones with PGI status (Protected Geographical Indication). They are hand-picked and preserved in oil, vinegar or sea salt.
Our producer on Pantelleria also grinds them into an easy-to-use powder which we love.
Never cooked with capers? Here are our top 5 ways to use caper powder and add some sunshine to your dishes:
1. In a pasta sauce – just add the caper powder to crushed San Marzano canned tomatoes or to fresh cherry tomatoes cooked with a little onion and olive oil.
2. As a bruschetta topping along with chopped tomatoes and a generous drizzle of extra virgin olive oil.
3. As a pizza seasoning – especially good with olives on a pizza rossa (a pizza with a simple tomato topping).
4. To add flavour to fish soups or stews.
5. Sprinkled on a salad – the flavour of capers goes well with a tomato or roasted pepper salad. You can also add the powder to your vinaigrette for an extra caper kick.
Did you know that capers are really good for you? They contain vitamin A, vitamin C and B vitamins and are rich in minerals such as calcium, potassium, iron and phosphorus.