An authentic Italian pasta recipe with Colatura di Alici (Traditional Anchovy Sauce)
Bring the taste of the Amalfi Coast to your table with this delicious recipe using our traditional anchovy sauce (colatura di alici) from Cetara (pictured below).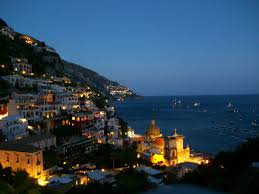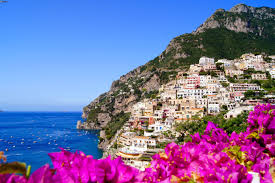 The main ingredient of this dish is colatura di alici (anchovy sauce), an unusual and rare ingredient made exclusively in the little town of Cetara following an ancient Roman recipe (Colatura derives from Garum, the fish sauce used by the Romans as a dressing for their food).
The fresh anchovies are placed with salt in wooden barrels, with a weight on the top and left to mature for at least 5 months. Then, as you can see from the video below, the juice is collected through a little hole at the bottom of the barrel. This amber liquid is incredibly tasty and has the fresh aroma of the Mediterranean. You can use it in various pastas dishes or just drizzle it over a bruschetta or grilled vegetables.
Ingredients
360g Pasta Gragnano orecchiette pasta
3 tbsps of colatuta di alici (anchovy sauce)
60g stale bread (the remains of a loaf rather than sliced bread is preferable)
200g broccoli
3/4 tbsps extra virgin olive oil
2 cloves of garlic
250g clams
salt
Method
Crush the garlic and gently fry in 3 tbsps of extra virgin olive oil in a large frying pan for a couple of minutes.
Boil the broccoli (broken into small pieces) for 8 minutes.
Add the clams (if they have not already been cleaned when you buy them you will need to leave them to soak in cold water with 3 tbsps of salt for two and a half hours. After the first hour and a half, drain and rinse them and cover with fresh water and salt for another hour. After the two and a half hours rinse them again and they will be ready to cook). Cook them with the garlic for a few minutes until the shells open.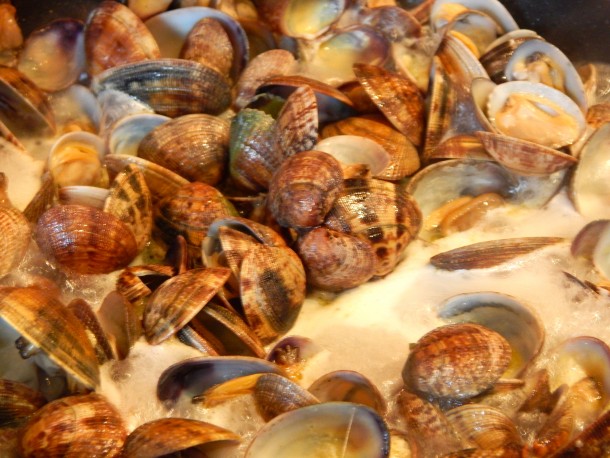 Remove the clams from the pan, put them to one side.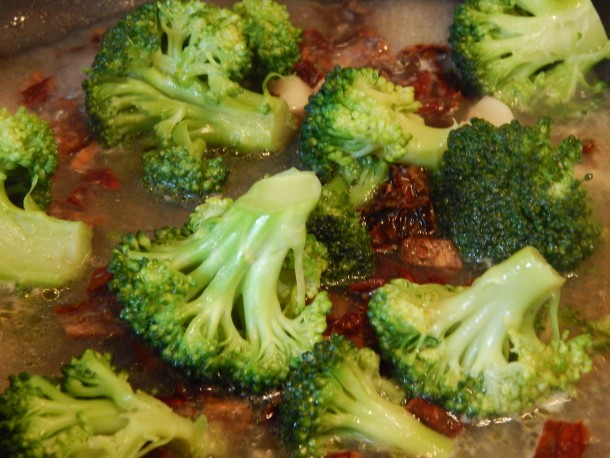 In the same pan add the broccoli and the finely sliced sun dried tomatoes and cook on a low heat for 5 minutes.
Roughly crumble the stale bread into breadcrumbs and toast lightly in a small pan with just a little oil until lightly browned.
Cook the orecchiette in a large pan of boiling no salted water until al dente.
Drain the pasta and add to the broccoli & sun dried tomatoes, then add the clams too.
Stir all of the ingredients together on low heat and then add the colatura di alici and the stale bread crumbs. Cook for 30 seconds or so, stir again and serve.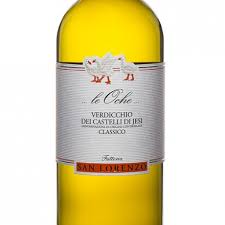 Enjoy this easy, tasty and healthy meal! Did you know that broccoli is a great superfood? If you'd like to know more about the benefits of broccoli, have a look at this wonderful article: 43 Researched-Backed Health Benefits of Broccoli.
This tasty dish goes well with a good Italian dry white wine. We suggest the organic Verdicchio Le Oche a fresh, soft, fragrant and well structured white wine with a pleasant fruity and floral flavour.
Enjoy and Buon Appetito!