If you love chilli and foods that have a strong, meaty flavour then you absolutely MUST try one of the tastiest traditional treats from Calabria: Nduja
This incredible, spicy salami is a typical Calabrian food and a really versatile ingredient to keep in your cupboard.
Traditional Nduja: Some History
Amongst all of the traditional foods from Calabria, Nduja is probably the best known and a real wild card in the kitchen! This savoury soft, spreadable salami is a typical product of Spilinga, a city in the northern part of Calabria, in the province of Vibo Valentia.
The origins of Nduja are a bit foggy and date back to foreign invasions. Some think it is linked to Gioacchino Murat, king of Naples during the French domination, who apparently distributed a French salami called anduille gratuitously to the lazars, in order to keep them tamed and avoid a revolt. Others think the Spanish imported it during the invasion of 1500.
Ingredients
One way or the other, the only certainty is that Nduja was a poor dish, made mainly of giblets and entrails, which was largely consumed by peasants who were accustomed to making it with what was left of the pig once they had given all the fine parts to the noblemen.
Originally, being a simple dish eaten by peasants, the recipe was quite different with the main ingredient being offcuts of pork. With time the recipe changed to meet health standards of modern day eating, Now, made of lard, pork cheek and bacon mixed with minced fresh, sweet chillies, salt and powdered chilli, it is usually left to age for anything from 3 months to 1 year. The taste of this traditional Calabrian treat has however, remained unchanged.
Uses of Nduja
Nduja has been a staple of Calabrian cuisine for centuries now but its widespread use from the bottom to the top of the boot has now spread to many corners of the world making it a favourite must-have ingredient.
This spicy delicacy is used mainly as a condiment or spread; Nduja is the perfect complement to al-dente pasta or as a delicious spread to lavishly dollop on toasted ciabatta bread or golden crostini.
Nduja is generally stored in its casing in a cool, dry place, or taken out from it and placed in glass jars topped with abundant olive oil, which must always be kept up to the rim of the jar to avoid spoiling or contamination of bacteria.
The incredible kick that Nduja gives is something special and it can turn any recipe into a rustic, flavourful delicacy that packs a real punch.
Our favourite recipes with Nduja
Here are some simple recipes with this traditional treat from Calabria for you to try at home. They will bring a taste of Southern Italy to your kitchen that you'll love!
Meatballs with Nduja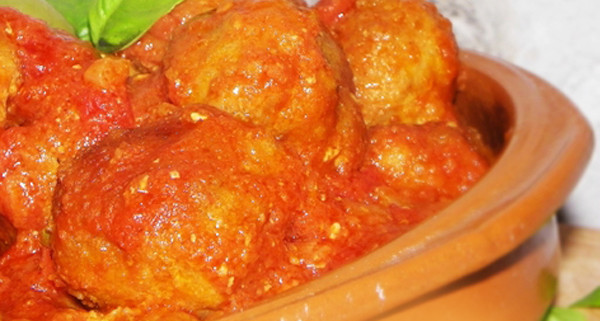 Ingredients for 4 people
500g of minced meat
150g Nduja
70g Pecorino
50g green olives
50g stale bread
2 shallots
1/2 clove garlic
2 organic free range eggs
400g San Marzano peeled tomatoes
200g breadcrumbs
Organic extra virgin olive oil
Salt
Method
Step 1: Heat a tablespoon of oil in a large pan together with the shallots previously peeled and cut into slices, ground pepper and a pinch of salt, sauté for 2 minutes and then add the peeled tomato (which you have broken up with a fork) and ladle of water to stretch the sauce, cook at a medium low flame with the lid for 15/20 minutes.
Step 2: Meanwhile, in a bowl, put the minced meat, the Nduja and a pinch of salt mix with your hands for a few minutes.
Step 3: Add the grated Pecorino and Parmesan, the two egg yolks, chopped olives, half of the breadcrumbs and peeled and finely chopped garlic. Mix with your hands until it is a smooth paste. Form round classic meatballs then coat them in breadcrumbs.
Step 4: Pour 5 tablespoons of oil in a pan and when hot, lay the meatballs and fry for 3-4 minutes then transfer them into the pan with the tomato sauce, mix them with the sauce and cook for about 10/15 minutes with the lid on.
Serve hot with a few leaves of fresh basil.
Fried Egg and Nduja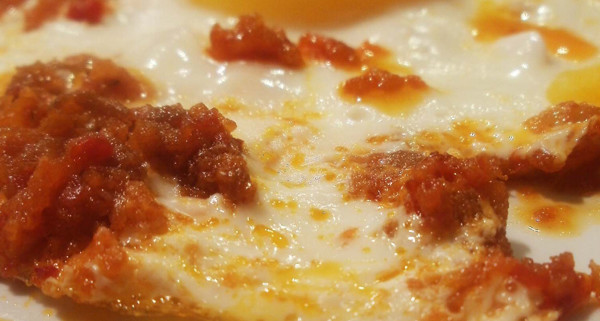 Ingredients for 4 people
4 organic free range eggs
Organic extra virgin olive oil
2 tablespoons Nduja
Salt
Method
Take a pan and melt the Nduja in olive oil. Mix into a smooth sauce. Then break the eggs and let them fry, sprinkle with a pinch of salt and serve hot.
Pasta with Nduja and potatoes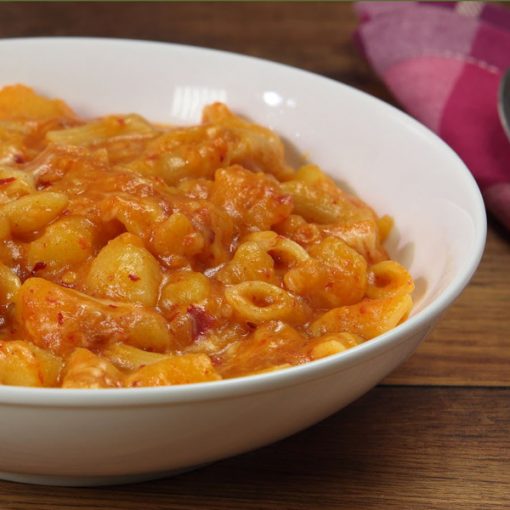 Ingredients for 4 people
200g potatoes
30g Nduja
50g peeled almonds
Handful of basil
8 tablespoons organic extra virgin olive oil
Salt
Method
Step 1: Place in the mixer 50 g of peeled almonds with 40g of sun dried tomatoes drained from their oil. Add around 30g of 'Nduja, a handful of basil leaves and 8 tablespoons of extra virgin olive oil. Mix well, then transfer the pesto in a large mixing bowl.
Step 2: Peel 200g of potatoes and cut them into chunks. Boil in a large pan of salted water and after 5 minutes add the pasta.
Step 3: Drain the pasta and potatoes, leaving them a little bit wet. Pour quickly into the bowl with the pesto, add a few leaves of fresh basil, mix well.
Serve immediately.
Schiacciatine With Nduja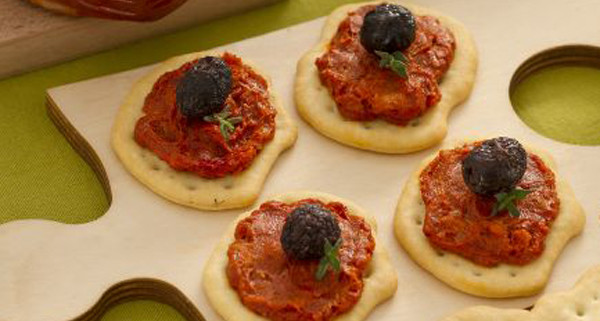 Ingredients for 12 Nduja Crackers
12 flat crackers made with olive oil
250g Nduja
Handful of black olives
12 black olives to bake
Thyme
Preparation
Step 1: Bake the black olives on a tray in the oven for a few minutes.
Step 2: Mash the Nduja with the black olives then spoon the mixture into a piping bag with a large nozzle.
Step 3: Set aside a few sprigs of thyme.
Step 4: Now you can build your crackers: place them on a cutting board, place one a dollop of the mixture you prepared then garnish with thyme leaves and your baked black olives.
Enjoy!
Nduja is very savoury and spicy so it is best not to pair it up with another rich and flavourful food. You will want it to be the main ingredient of your dish. Now go ahead and try your favourite recipe!