We recently visited Matera and stopped by to chat to Giovanni Marvulli our 'Cenzino' olive oil supplier. We wanted to see his vast olive grove and learn more about his award winning organic extra virgin olive oil.
Giovanni, tell us about your passion for quality organic extra virgin olive oil…
Ever since I was small I have been immersed in the world of olive oil. I remember spending nights in the processing plant. I took over the family company in 2009 making sure that I was fully prepared by attending courses, studying hard and then applying what I had learnt. The quality of our organic extra virgin olive oil improved year on year and began to be recognised by lots of important bodies. My passion grew along with the desire to keep on improving.
What are the characteristics of your olive grove?  
It is a really unusual olive grove. I have around three thousand trees scattered across an area of 72 hectares. The trees were not planted in this way but just grew naturally there. The soil and the climate are perfect for the olive trees. There are advantages and disadvantages of this natural growth, for example it is more expensive to harvest the olives as this has to be done by hand and it of course takes longer to move between the trees as they are really far apart. On the positive side, as my trees are in their ideal natural habitat they produce olives every year rather than once every two years and they do not need any fertilizers. The fact that they are spaced so far apart means that they have lots of air and lots of light so they are very healthy and there is never any need to intervene with chemicals.    
What happens during the harvest and the pressing?
The harvest must be done manually because my olive trees are hundreds of years old and very large so this means that mechanical harvesting is impossible. Manual harvesting helps to maintain the quality of the olives. The cold pressing takes place immediately after the harvest. At 11am I make the first trip to the plant taking the olives we have harvested early in the morning. This means that the olives are pressed within 4-5 hours of harvesting – one of the basic rules of quality organic extra virgin olive oil production.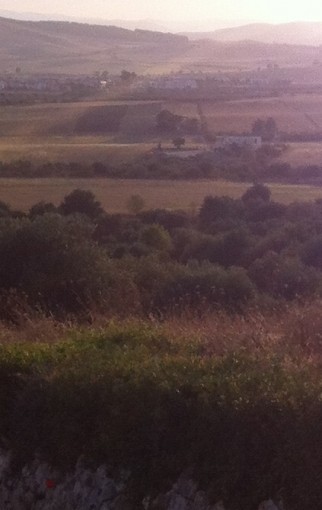 What does "extra virgin" really mean?
Extra virgin olive oil is the highest quality and most expensive olive oil classification. Extra virgin olive oil should have no defects and a flavour of fresh olives. In order for an oil to qualify as "extra virgin" the oil must pass both an official chemical test in a laboratory and a sensory evaluation by a trained tasting panel recognised by the International Olive Council.
In chemical terms the acidity of extra virgin olive oil must not exceed 0.80 grams per 100 grams (mine is 0.16) and peroxides must be less than 20 (mine are 5). The lower these numbers the better the oil.
Extra virgin olive oils also contain polyphenols. Excellent quality extra virgin oils like mine will have a slightly bitter, spicy taste – this comes from a high number of polyphenols. Like other antioxidants, polyphenols decrease heart disease risk factors by lowering blood pressure and cholesterol, reducing blood clotting and improving the health of artery linings, they also contain strong anti-inflammatory properties. They are good for the oil too as they help to maintain its quality over time. A top quality oil should have at least 200-300 polyphenols. My oil is packed with a powerful 554!
Unfortunately many so-called extra virgin olive oils are not what they say they are – basically the price will always reflect the quality. It's just not possible to produce a quality extra virgin olive oil for less than £5 a litre.
When can an olive oil be called organic?  
Oil as with other products can be called organic when no chemical products are used to fertilize the trees or to treat the olives. My company is inspected regularly by Ministry officials and if receives a certificate to confirm that the company and its products are organic.
What are the characteristics of Cenzino oil?
My organic extra virgin olive oil is a Single Estate 'monocultivar' oil,  an olive oil made from a single variety of olives typical of and exclusive to this area of Matera. It has an elegant perfume with notes of aromatic herbs, of artichokes and green almonds. Having an extra high number of polyphenols means that it's a very healthy oil and that it will maintain it's quality over a long period of time.
What prizes has 'Cenzino' organic extra virgin olive oil won?
I won my very first prize in 2009 'la Gran Menzione' at the Sol d'Oro competition in Verona –one of the most important Italian Olive Oil prizes. We have been winning prizes every year since demonstrating consistent quality. There have been so many it is difficult to list them all here so I will just focus on the main ones so far in 2014:
Winner of 'JOOP' the principal Olive Oil Prize in Japan.
Ranked in the top 25 organic olive oils in the world by 'World's Best Olive Oil' based on a summary of all of the results of all of the international competitions put together.
Gold Medal winner at 'Biol'.
Gold Medal at 'Monocultival Olive Oil'.
Second Place at Premio Montiferru, Verona International Competition.
3 Leaves awarded by 'Gambero Rosso' Italy's leading restaurant and food guide.
Oil of the Year 'Il Magnifico' Extra Virgin Olive Oil Awards (Referred to as the Oscars of E. V. Olive Oil)
Are there any foods that go particularly well with 'Cenzino' olive oil?
My olive oil has quite a strong personality so it goes well with meat – particularly red meats, with pulses, with vegetables, with salads and on certain types of fish such as tuna and swordfish.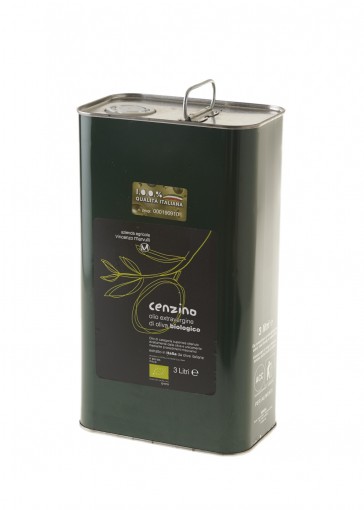 We stock three different sizes of Giovanni's prize winning oil: 'Cenzino' organic extra virgin olive oil 500ml 'Cenzino' organic extra virgin olive oil 750ml 'Cenzino' organic extra virgin olive oil 3 litres
Take a look at our website www.vorrei.co.uk for more information.