In honour of The Great British Bake Off and its first ever Italian Week, we thought it only fitting to dedicate a blog post to one of the episode's food challenges: pizza!
With The Great British Bake Off contestants struggling to create the perfect margherita pizza, we thought we'd lend a helping hand with a blog post on how to make your own delicious pizza from scratch. Below is all you need to know in order to become your own 'master baker' of the margherita pizza!
When was the margherita pizza first created?
The margherita pizza might be the simplest of pizzas but it is the most loved in Italy. The original Neapolitan recipe of margherita was created for Queen Margherita of Savoy in 1889.
What flour should you use to make pizza?
The type of flour you use to make your pizza base is essential to its overall result. We recommend our Caputo flour from Naples – this is used by most of Naple's pizzaioli and is a grade '00' meaning it is superfine and easy to use. We offer four types of flour in total: one for thinner crusts, one for thicker crusts, one for gnocchi and a ground flour.
What toppings should I use?
Tomato: We recommend using our San Marzano canned tomatoes when making your classic Italian margherita pizza, they are delicious! You can use these crushed on top of your pizza or, alternatively, you can use  passata for the tomato base.
Cheese: a mozzarella cheese is an essential ingredient to your margherita pizza – try Buffalo Mozzarella DOP.
Dried Oregano: ideal for finishing off your pizza! Try our Calabrian Dried Oregano. 
How to make the perfect margherita pizza
So, you have all the ingredients but how do you make a perfect, Great British Bake Off worthy pizza?
The full recipe from Nonna Giulia can be found here.
Want to try more?
Looking for more pizza topping ideas or for the perfect gift for a pizza lover? Take a look at our Pizza Hamper, which includes extra toppings including green olives and pizza oil as well as Caputo yeast.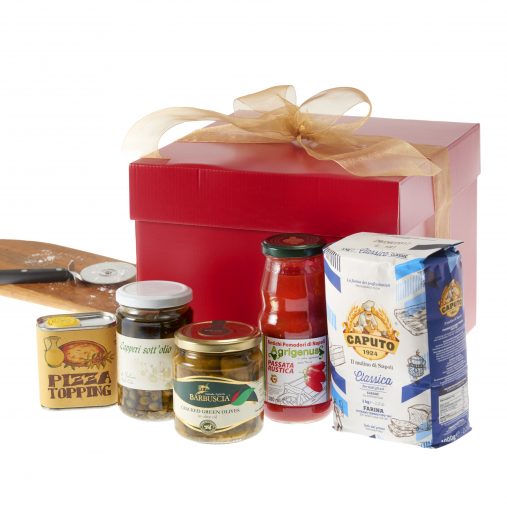 Pin for later: