Happy Italian Easter!
Much less commercialised than in the UK, Italian Easter celebrations focus on food, friends and family. They also focus on the more solemn, religious aspects of the holiday. Like many Italian holidays, Holy Week is characterised by rituals and traditions, and celebrated in many diverse ways across Italy, which reflect the regional differences.
Celebration in Italy naturally means sitting at the table with family and relatives to enjoy traditional food. Although an Italian proverb advises: "Natale con i tuoi, Pasqua con chi vuoi" meaning "Christmas with family, Easter with whoever you want!"
The traditional Easter meal usually takes place at lunchtime on Easter Sunday with Easter Monday, known as Pasquetta or 'Little Easter', dedicated to less formal celebrations. Usually large groups of family and friends get together to share an assortment of food made with ingredients from the previous day's celebrations as well as huge trays of lasagna, frittate, Easter bread and tarts!
Here's our round-up of the six most popular Easter treats, which can be found from the top to bottom of Italy and vary in size, shape and taste from region to region!
1) Italian Easter Eggs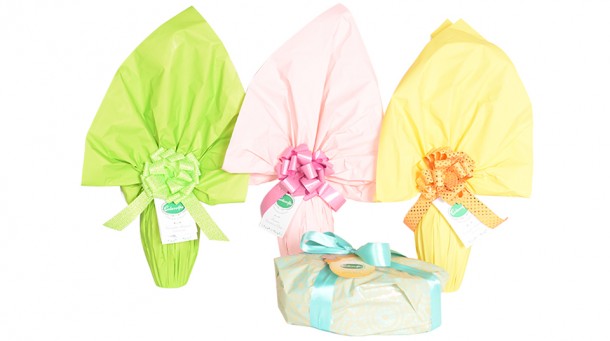 Without doubt Italians do Easter eggs better! Across Italy shops and bars are packed with breathtakingly beautiful chocolate eggs. In bars they are often suspended from the ceiling, creating a rainbow of vibrant colour. Generally handmade from delicious chocolate, they can range in size from very small, to enormous! Typically they all contain a little gift or surprise in them. For adults, the surprise can often be a good quality, useful gift and if the egg is handmade the present can even be chosen and placed inside by the chocolatier. Engagement rings are especially popular!
The chocolate is often decorated with even more chocolate and icing before being wrapped in colourful foil and ribbons. Even the non-handmade eggs are generally of a better quality than our own mass-produced offerings, which appear in the shops just days after Christmas!
Want to find out more about finding the perfect Easter Egg? Take a read of this blog post. 
2) Colomba cakes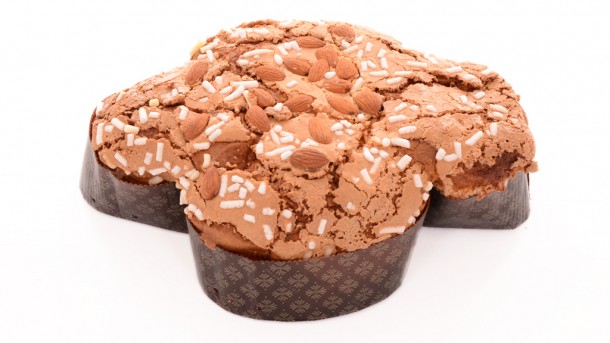 Similar in ingredients and texture to a Christmas Panettone, the Colomba cake is a fluffy, moist cake enriched with candied fruit and raisins and topped with a crunchy almond glaze. Baked in the shape of a dove to symbolize Spring time it is traditionally given as a gift or eaten at home over the Easter festivities.
3) Savoury Easter tarts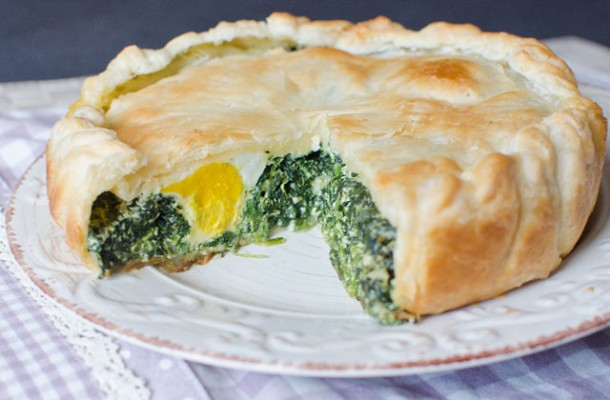 Every region seems to have its own particular version of the Easter tart and each region knows it by a different name! Popular versions include Torta della Pasqualina, Pizza Rustica and Torta di Pasqua.
A traditional savoury Easter tart is usually encased in filo pastry with a filling made with eggs and often Ricotta cheese, spinach or other seasonal fresh vegetables, parmesan, herbs and onions. It's normally served during the Easter Sunday meal.
5) Easter bread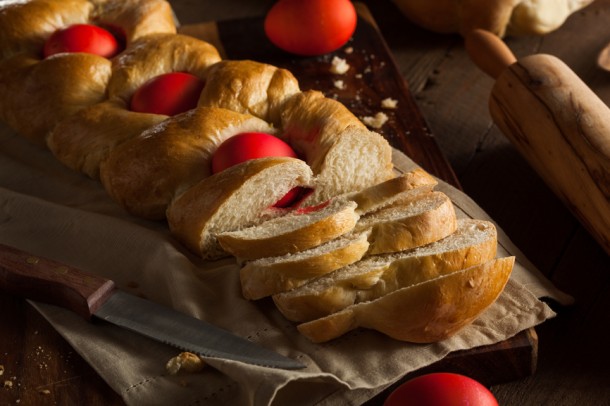 Italian Easter meals feature an array of different types of breads. They may be sweet or savoury, contain cheese, sausage or salami and they may be sweet or shaped like ducks or lambs. One of the most colourful and fun types to make is the sweet Italian Easter Bread topped with dyed eggs. The sweetened bread dough is shaped into a wreath or a plait and the coloured Easter eggs are tucked into it before baking. The eggs are edible but their use is largely symbolic. Eggs are a common Easter symbol for their historical association with fertility and rebirth. Look out for our Easter bread recipe coming soon to our blog.
If you're inspired to bake your own Easter bread, take a read of our blog  The perfect recipe to make with children!
6) Neapolitan Easter cake (Pastiera)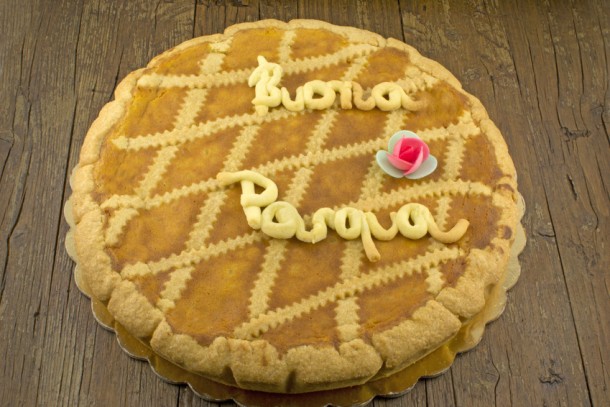 This is a century-old dish made with ricotta cheese and decorated with a lattice top that appears in many versions. Each cake is made according to a secret family recipe. Traditionally it is made by every family in Naples during Holy Week to be eaten on Easter Day. The hallmarks of a Pastiera are cooked wheat and fragrant orange flower water making this quite a complicated recipe to prepare.
This rich, sweet cake is made with ricotta, candied fruit and cooked wheat and has a case of sweet shortcrust pastry. It's often flavoured with orange flower water or vanilla.
Have you visited Italy during the Easter festivities? Let us know if we missed any of your favourite Italian Easter goodies out of our top 6!
If you are a fan of Italian Colomba cake you should definitely read this article: 3 Colomba Cake Creation You Must Try.
Pin for later: