Fresh Porcini mushrooms are a little hard to come by in the UK, they are also rather pricey and don't keep for more than a few days. Luckily, dried Porcini are a fantastic alternative.
With an intense, concentrated flavour and substantial meaty texture, Porcini are wonderful in everything from risotto to antipasti and sauces. A good quality packet of dried Porcini will release an incredible heady aroma when you open it, the mushrooms should not be broken into tiny pieces or crumbling.
Porcini are low in fat and carbohydrates. They're high in protein, vitamins, minerals and dietary fibre. They also contain antioxidants and antiviral compounds. This not only makes them an ideal nutritional source for vegetarians and vegans, but a greatly beneficial addition to any diet.
Mushroom Heaven
Vorrei's dried Porcini are classified as 'First extra quality' and come from the uncontaminated Sila National Park in Calabria. The damp, autumnal air of this vast, breathtakingly beautiful national park creates perfect conditions for Porcini to thrive. They are hand picked between August and October and are then dried naturally in the sun.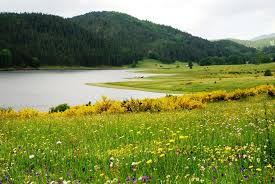 Visit one of the pretty Sila villages such as Camigliatello Silano in the Autumn and you will see local funghi hunters selling their fresh prize porcini on makeshift stalls in the street or in their cars. Local shops sell the dried variety by the kilo and the smell in the air is overwhelming!
How to prepare dried Porcini 
Dried Porcini mushrooms need to be rehydrated in warm water to plump them up before you use them in a recipe. Leave them soaking in the water for around 20 minutes. You may wish to keep the water you soaked them in; you can use it as a stock to boost the flavour of your risotto or sauce. You really only need a handful of Porcini to infuse any dish with that distinctive Porcini taste. 
Ways of eating Porcini
At Vorrei we love Porcini of every type. They are wonderful as an antipasto 'sott'olio' (marinated in olive oil and herbs), in a luxurious pate' on a bruschetta, as a side dish fried with potatoes, in a frittata or omelette and of course in a risotto or with pasta.
Why not take a look at some of our favourite Porcini recipes:
Cavetelli with sundried tomatoes, sausage and dried Porcini mushrooms
Fried potatoes with dried Porcini mushrooms
Tomato sauce with dried Porcini mushrooms