Experiment with Black Summer Truffles – All The Flavour at a More Accessible Price!
Who doesn't love the delicious, earthy flavour of fresh truffles? That wintery aroma that fills your nostrils and tingles your taste buds, leaving your mouth watering with craving!
Truth is, these special little treats can be expensive just as much as they can be delightfully tasty, leaving our pockets a little on the light side. Truffles are one pricey delicacy that can cost you from £150 for 50g of the black winter variety up to £300 for the same weight of the much rarer white Alba truffles – a little on the costly side for such a small, dainty morsel! But what if the summertime brought an unexpectedly welcome surprise?
Black Summer Truffles: Luxury Within Reach!
An interesting type of truffle that will still delight you without leaving you penniless is the Black Summer Truffle. This variety, also known by the name 'Scorzone', is usually found between the months of May and August and is less valuable than the regular Black Truffle. Nevertheless, it is delicate and aromatic and exquisitely tasty. It will definitely still give your dishes that kick you are looking for and is perfect for foodies who want to experiment in the kitchen without spending a fortune.
Black Summer Truffles have some very peculiar characteristics that distinguish them from other varieties.
How To Recognise Black Summer Truffles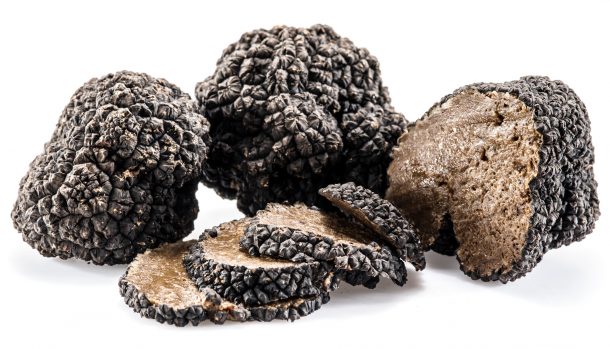 Black summer truffles are easily recognizable due to their rough, warty appearance and yellow insides with numerous veins. They have a slightly sweeter flavour and less musky intensity, which is why they are much more affordable than the other kinds.
 The peridium, which is the outer part, has a reddish hue at an early stage of life of the truffle but it darkens with age.
The inside, called glebe, has a colour that shifts from hazelnut to sandy yellow and is furrowed by whitish veins. Its size can vary and it usually grows in sandy or clay-like soils, generally living by oaks, beech oaks, hornbeams, hazels, holm oaks and pine trees.
The black summer truffle has a flavour that resembles that of porcini mushrooms and is more delicate and light than regular truffles.
The cost of these tasty treats averages at around £45 for 50g
Best food Pairings and a Tasty Recipe for you To Try!
Black Summer Truffles can be best paired with sliced meats and strong sauces. This fresh, delightful tuber also goes perfectly with salads, raw vegetables or light summer soups. You can grate it fresh over the soup and enjoy its amazing crisp flavour.
Other interesting pairings can be made with risottos, eggs and pasta dishes, especially cold pastas.
Here is a quick recipe that is perfect to make on a warm summer's day:
Black Summer Truffle Fettuccine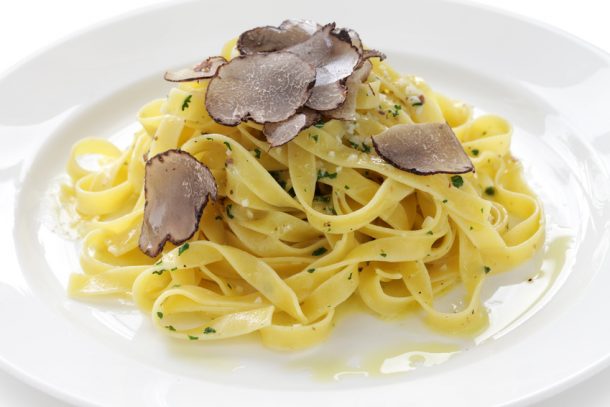 Ingredients for 4 people
100g Black Summer Truffles
400g Fettuccine
1 clove of garlic
Salt to taste
8 tablespoons extra virgin olive oil
Method
Step 1- Brush the truffle to remove the soil and cut it into thin slices, leaving some aside for decoration.
Step 2 – Put the olive oil and the garlic clove into a frying pan. Cook the garlic on a low heat for a few minutes and then remove it. Add the sliced truffle. Mix and add salt to taste. Leave for a couple of minutes for all of the flavours to come together and then remove from the heat.
Step 3 – In the meantime, cook the Fettuccine al dente and drain. Remember to keep a ladle of the cooking water aside to add to the sauce.
Step 4 – Combine the Fettuccine with the truffle sauce in the frying pan adding some of the cooking water you had set aside.
Mix in the pan for a few seconds then serve and decorate with the fresh truffle slices.
This dish is easy, tasty, quick to prepare but also a little indulgent and luxurious! Enjoy your very special summery meal!