Calabria is a breathtakingly beautiful region in southern Italy. It is the "toe" of Italian peninsula, surrounded on three sides by sea and characterised by wide sandy beaches overlooked by stunning hill-top towns. Tipped as one of the 'Top 52 places to go" in 2017 by the New York Times, this relatively undiscovered region is so far unspoilt as far as tourism is concerned. The landscape is mainly mountainous and it is the incredible contrast of the wild, unspoilt dense forests and snow capped mountains and dramatic Mediterranean coastline that make it so special. Aside from the incredible scenery and the wonderful warmth of the 'Calabresi', it is also Calabrian food that puts this area firmly on the map!
The region is rich in typical products including olive oil, sweet red onions of Tropea, red hot chilli peppers, (omnipresent in the local dishes), wild mushrooms, (of abundance in the forests of Sila, Aspromonte and Pollino), aubergines, tomatoes, and fruits like figs and citrus fruits, particularly the bergamot and cedro (citron).
Let's take a closer look at some of the best Calabrian food starting with traditional homemade pasta:
"Fileja" and "Lagane"
Fileja, Maccarruni or Scilatielli (every town has different name for this kind of pasta) is a pasta shape found across whole region. The main ingredients are semolina mixed with water. The dough is rolled around a knitting needle (traditionally a grass stem was used) then cut to appropriate lengths. Fileja is often served with a meat sauce (pork, veal or goat meat) and then topped with salty ricotta cheese shavings. Often the pasta is made flavoured with chilli or porcini and then served with a tomato sauce; simple to prepare and very tasty.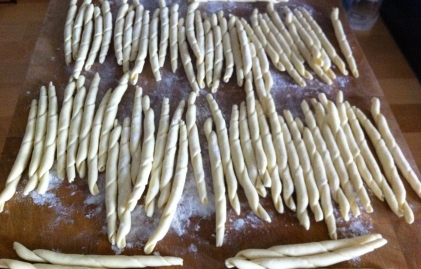 Lagane are similar to Tagliatelle or Fettuccine but thicker, wider and shorter and are typical of Calabria but also Campania and Basilicata and usually they accompany chickpeas in a dish that is known in the local dialect as "Lagane e cicciaro".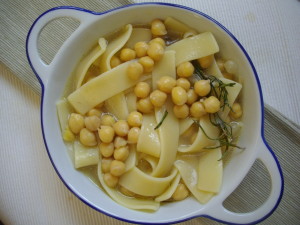 Meat & Salumi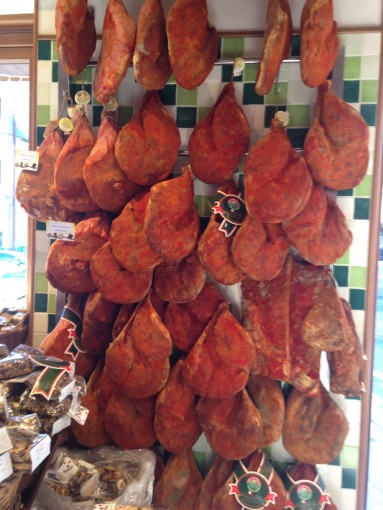 Meat is traditionally very important in Calabrian cuisine, particularly pork.  The tradition of raising and slaughtering pigs is still observed in rural areas and dates back to tougher economic times. This is a tradition which involves the whole family and indeed the whole pig – no part is wasted and the meat lasts for a long time.
Particularly appreciated are the many varieties of cured meats and sausages. From, salsiccia to soppressata, salumi to capicollo and 'Nduja, pork is the main ingredient.
'Nduja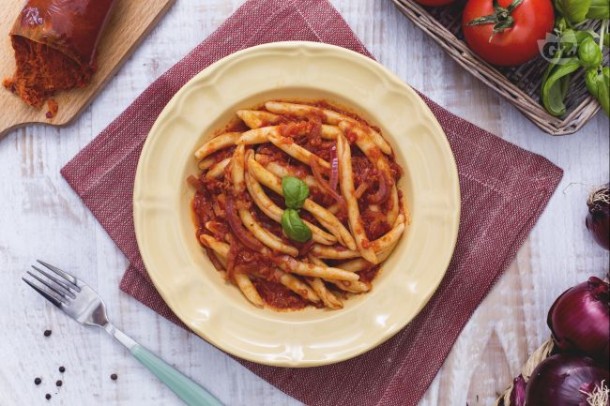 'Nduja is certainly one of the best-known products of the Calabrian food tradition and has grown in popularity in the UK over the last couple of years. It's a creamy type of salami blended together with peperoncino and spices. The uses of 'Nduja are endless! You can spread it on chargrilled bread, mix it with pasta, add it to any kind of sauce or main dish or even eat it as it is accompanying it with mature cheeses. Nduja is spicy and has a remarkably strong taste, which makes it a very interesting, rustic product that can change any dish into a traditional Calabrian experience!
Pork is also the only ingredient of a typical dish of Cosenza, "frittule", made with the pork rind, pork meat and other parts of the pig that are not generally used. Usually this rich dish is prepared on the day of the slaughter, which is generally a family feast day.
Goat and veal are also quite common and many recipes which include these meats are made using parts of the animal which are not generally eaten, a sign of the "waste not, want not" mentality of peasants and farmers which is very much still around today.
Another sign of importance of food for Calabrians and of their willingness to guarantee its long life, for consumption later in the year, is the attention, they give to food preservation. Curing, smoking or salting meat and fish and particularly preserving vegetables in oil are favourite ways of conserving fresh produce such as sun dried tomatoes, aubergines, artichokes, olives, onions, garlic and wild mushrooms.
Fish & Seafood
Calabria, surrounded by the sea, is definitely a land of fishermen, and stockfish and swordfish based dishes are the most common in the region. Swordfish is often sliced finely and cooked simply in a pan with oil and a dash of lemon, The somewhat difficult to pronounce "Piscispata a gghiotta" (swordfish soup) is a specialty of Arab origin from Reggio Calabria. Tuna, shrimp, lobster, squid and anchovies are also found on most menus and can be bought fresh daily along the coast directly from local fishermen.
Sardella
This is a special spread made with whitebait, pepperoncino, salt and wild fennel. It is often spread on  bruschetta or added to pasta sauces. This dish is one which has always been a fundamental part of the Calabrian food culture but after the EU directive of 2006, which banned the fishing of new-born whitebait, it has become a forbidden product… or at least a little harder to find.
Cheese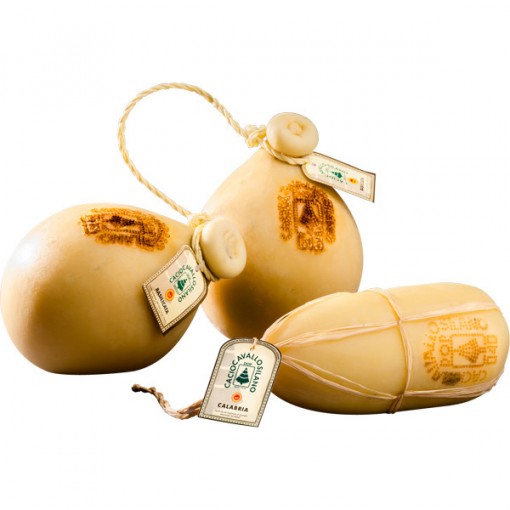 Calabrian cheese production is also notable. The Caciocavallo Silano, a cow's milk cheese, is probably the most famous. The Italian name means "cheese on horseback" and probably derives from the ancient custom of hanging the forms in pairs over an horizontal eave or timber. It has a fine and aromatic taste which, after long ageing, become more spicy and mature. Other specialities include "Buttiro" – Caciocavallo cheese with knob of butter hidden in the middle and Mozzarella in cream –  delicious and indulgent!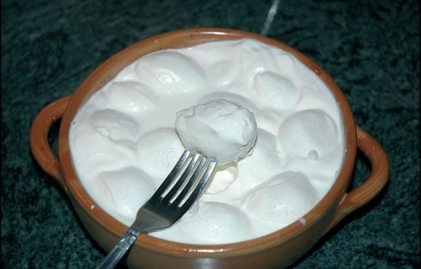 Peperoncino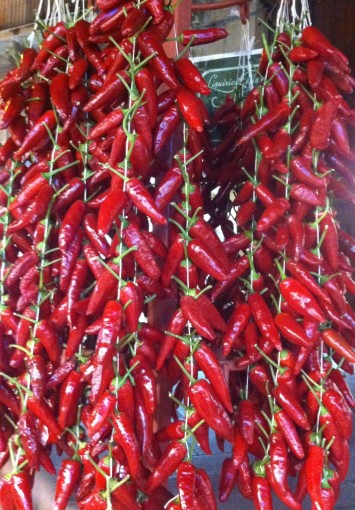 In Italy the Calabrian peperoncino is considered one of the highest qualities and hottest you can find. This special peperoncino is at the same time hot and strongly aromatic and is used almost in every Calabrian dish. There is a great variety of types of peperoncino to choose from in this region, such as: Vulcan, Poinsettia (Diavulicchiu), Vulcan (Soverato), Cherry Bomb (Bacio di Satana) and Hot Super Shepherd (Naso di Cane Piccante). The special climatic conditions and the sandy soil in which this pepperoncino grows make it delicious and incredibly healthy. Pepperoncino was in fact used as an antibiotic by ancient cultures and to stop the spread of infections.
Red Tropea Onion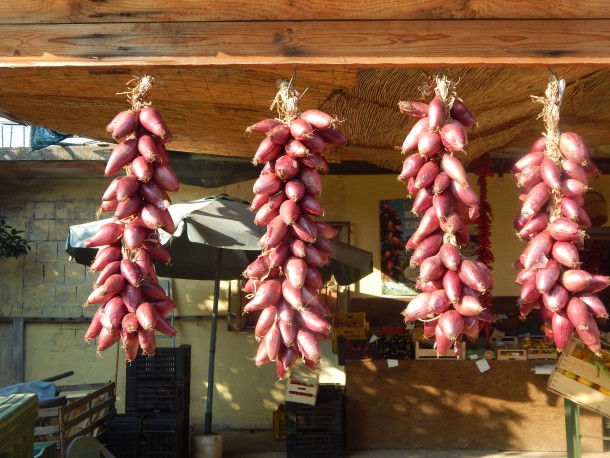 This special type of onion, awarded DOP status, is native to the Tropea area of Calabria. It is very sweet and flavourful and can easily be eaten raw (as a salad) as it has a delicate aroma and does not leave a strong aftertaste. It is a product that contains a great number of healthy substances including zinc, magnesium, vitamins, iron and a high level of anthocyanin, which confers it its typical reddish colour. In Calabria this onion is used widely both raw and cooked. Tasty jams are made with it as well as many traditional Calabrian dishes.
Calabrian Liquorice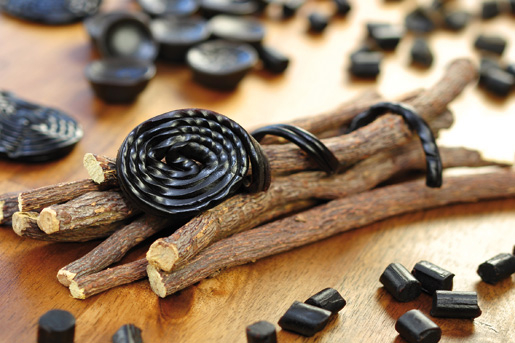 Liquorice is one of those natural products that can be found everywhere in Calabria since it is a perennial herbaceous plant. Said to be the finest liquorice in the world, it comes in many different forms from natural roots to suck on to a delicious liquer.
Figs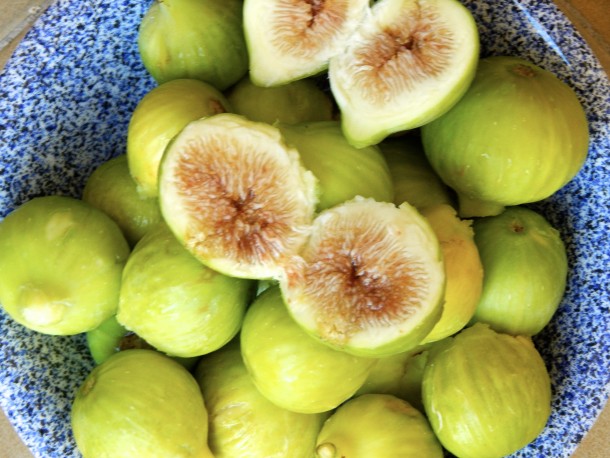 Figs grow in abundance in Calabria and nothing is more satisfying than eating them straight from the tree! The Dottato variety is the most common in Calabria and can be found from mid-August. It has green skin and a golden interior.  The flesh is creamy and sweet.  The Dottato fig is also a good choice for drying and particularly at Christmas time you'll find an array of sweet, plump dried fig delicacies, stuffed, coated in chocolate, made into a ball or roll or a velvety syrup!
Cuddurieddi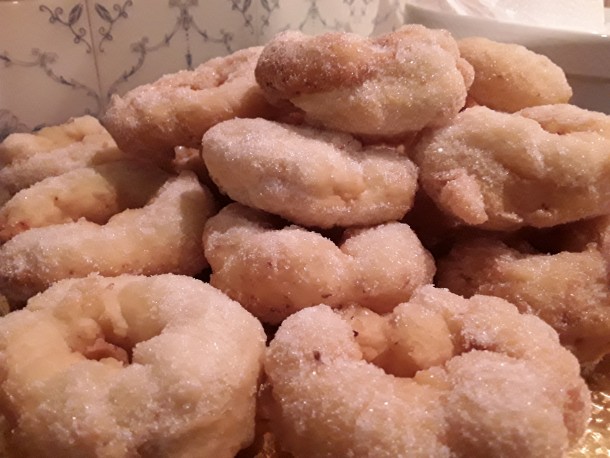 Cudduriedri or Cullurielli (depending on where you are from) is a festive fried delicacy, which is usually eaten during Christmas time. These are made with simple ingredients: flour, potatoes, salt and natural yeast and are then deep-fried. If you make a large batch, you can make some savoury and some sweet ones at the same time with the same dough. Savoury ones can be stuffed with mozzarella and tomato or anchovies (think small calzoni) and the sweet ones can be made into a ring doughnut shape and dusted with sugar.
Here is the recipe for you to try them on your own!
Ingredients
1 kg of 00 type flour
350/400g of boiled potatoes
13g of yeast
15g salt
1 teaspoon of sugar
Water (350 – 450 ml) We recommend retaining the cooking water from the potatoes.
Sunflower oil for frying (1.5l)
Method
Step 1. Wash, peel and then boil your potatoes. When they are still hot mash them and leave in a bowl.
Step 2. Place the flour on a flat surface and pile it up in the shape of a fountain, with a hole in the middle. Add the mashed potatoes, the yeast (dissolved in a bit of warm water), some water, salt and sugar. Start kneading the dough and add the water while you do so, until you feel that it has become soft and homogeneous.
Step 3. Place the dough in a bowl which you will have lightly powdered with flour, make a cross on the top of it it and cover with a tea towel and let it rest in a dark and warm place for about 2 to 3 hours.
Step 4. Once it has doubled in size, detach small pieces of 100/150 grams and roll them into smaller balls. Put them back to rest covering them again, being careful not to flatten them out.
Step 5. Take the ones that you will make into sweet Cuddurieddi first and make a hole in the middle with your finger, shape into a ring doughnut.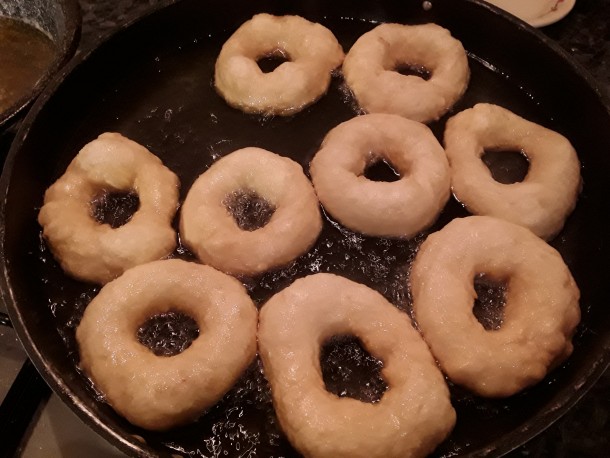 Step 6. Heat up the oil in a deep pan and when it is at the right temperature (very hot) place the Cuddurieddi delicately in the hot oil. Cook them on one side until golden and then on the other. Do not try to fry too many at once – be patient!
Step 7. Take them out of the oil and place them on kitchen roll. Serve them warm after you have dipped them on both sides in sugar.
Step 8. Gently flatten out the remaining balls one by one and put a little filling in the middle – either mozzarella or mozzarella and tomato (use crushed San Marzano tomatoes mixed with a little salt and dried oregano) or if you prefer an anchovy fillet or two. Fold over and press the edges down firmly to close well. Fry these too in the same way as the sweet ones.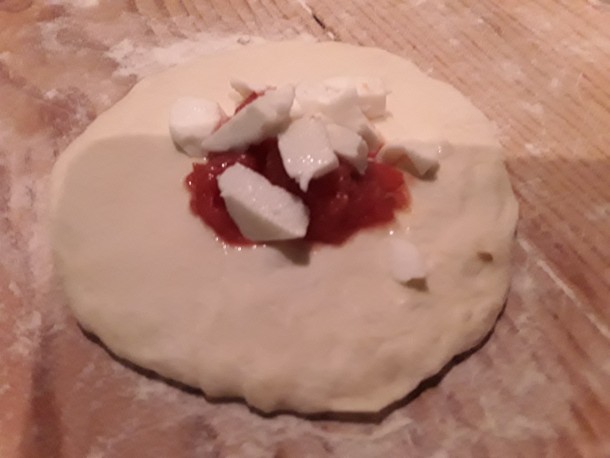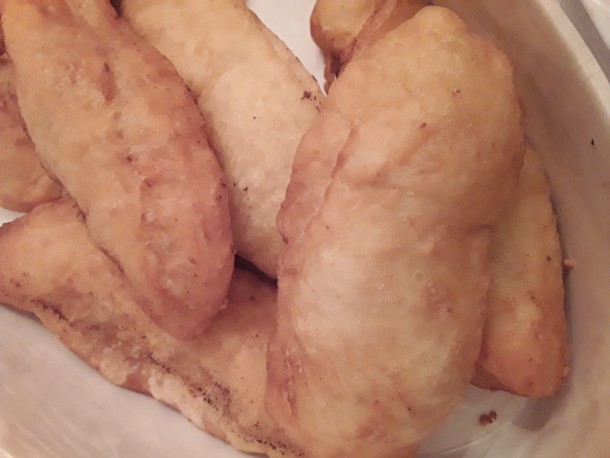 Enjoy!
We didn't have space to talk about all of the wonderful delicacies in Calabria, there are so many! If you want a "taste" of Calabria, you can find authentic Calabrian food specialties in all of the different sections of the Vorrei online shop: from sott'oli to lagane and fileja pasta, to chilli based products, marmalade and fig delicacies.