Catering for vegetarians over the festive period can be tricky – with often uninspiring results! At Vorrei, however, we're firm believers that vegetarian food doesn't need to be dull, and delicious Christmas inspired veggie food and drink is more than achievable.
To prove just that, below is a round-up of our favourite Italian vegetarian recipes for food and drink this Christmas.
Prosecco Cocktail with Gin
This recipe for pink gin prosecco cocktails will really get the Christmas party started! Made from our Prosecco Col Fondo Organic Wine, these cocktails are free of herbicides, pesticides, fungicides and are – ultimately – kind to the planet.
Ingredients for 2 cocktails
Method
Fill two large glasses with ice, add the gin and lemonade and then top up with the Prosecco and garnish with the strawberries! Enjoy.
---
Colourful Bruschetta with Chick Peas 
Our colourful bruschetta recipe with chick peas is ideal for any vegetarians and the perfect 'snack' for those Christmas evenings when lunch was long and filling!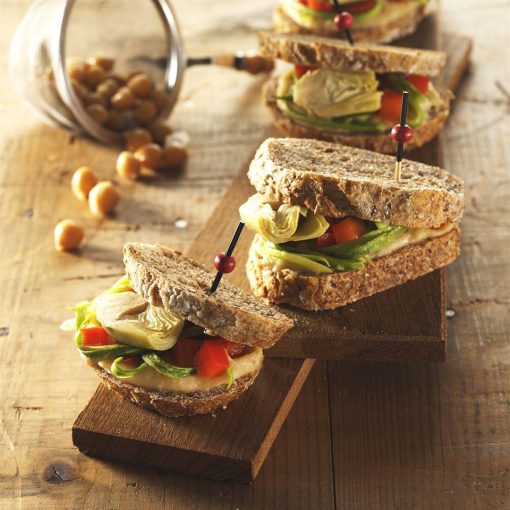 Ingredients for 4 bruschette
Method
Step 1. Drain the chickpeas from the liquid and blend them together with the lemon juice, a pinch of salt, the paprika, thyme and parsley, as well as 20ml of oil and a little water, until you get a thick, even paste.
Step 2. Wash and grate the courgettes with a large-holed grater. Wash the pepper, cut down the sides around the stem and chop finely. Finally, drain the artichokes and cut them in half.
Step 3. Sauté the pepper and the courgette in a non-stick frying pan for a short amount of time, then season with salt.
Step 4. Toast the bread slices, then spread with the chickpea paste. Top 4 slices of bread with the sautéed vegetables and add the artichokes. Close with the remaining slices of bread, cut them in half and serve.
---
Prosecco Risotto
Add a touch of fizz to your usual risotto with this delicious recipe! Start by opening two bottles of Prosecco – one to sip whilst cooking of course – and follow instructions below.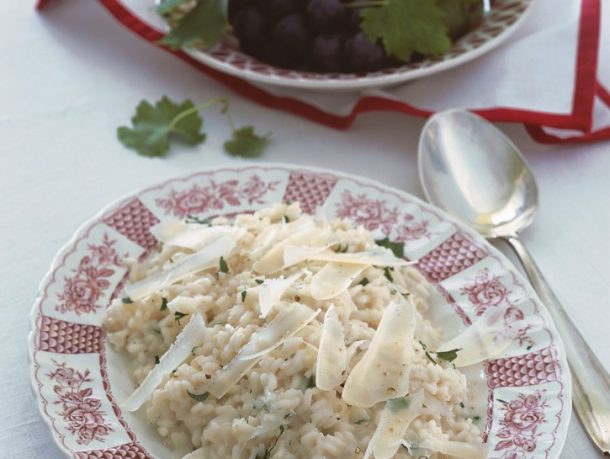 Good quality Italian ingredients are key to this recipe. We recommend Carnaroli or Arborio Italian risotto rice, which are both nice and starchy and will give you a creamy texture, whilst the grains maintain their shape. A quality extra virgin olive oil and a piece of fresh parmesan to flake on top of the risotto as a garnish are also essential.
Ingredients for 4 people
Method
Step 1. Prepare the vegetable stock and keep warm in a pan.
Step 2. Finely chop the onion and cook it for a few minutes in a large pan with 40g of butter and 2 tablespoons of olive oil, then add the risotto rice.
Step 3. Stir and let the rice toast for a few seconds on a high heat mixing well until the grains become translucent.
Step 4. Pour the sparkling wine onto the rice and cook on a fairly low heat, mixing with a wooden spoon until the wine has completely evaporated.
Step 5. Taste the rice and add some salt and a generous amount of black pepper.
Step 6. Continue cooking the rice by adding a little of the hot vegetable stock at a time and stirring well until the rice has absorbed the liquid. When the rice is still a little al dente, stir in the remaining butter and remove from the heat.
Step 7. Garnish the Prosecco risotto with Parmesan flakes (use a vegetable peeler), a little parsley and a final sprinkle of black pepper.
---
Sicilian Caponata (side dish)
This is one of the most colourful Italian Christmas recipes you'll find and it's sure to bring some Sicilian sunshine to your plate during the winter nights.
Ingredients
Method
Step 1. Cook the celery hearts in salted water, drain the water and lightly pan fry them.
Step 2. Cut them into small pieces and place them in a pan with olive oil, along with the cubed aubergines, olives, capers and raisins. Cook for about 10-15 minutes.
Step 3. In a separate bowl prepare the sweet and sour sauce with vinegar and sugar then add the toasted and ground almonds and toasted bread crumbs.
Step 4. In a clean plate, arrange all the ingredients and sprinkle with almonds and raisins.
Serve hot or cold.
---
Mini Chocolate Tiramisini
No festive dinner would be complete without an indulgent desert and our mini chocolate tiramisinis are the ideal end to a vegetarian inspired dinner and drinks. Much quicker to make than the Tiramisù, these are a stress-free, vegetarian friendly dessert.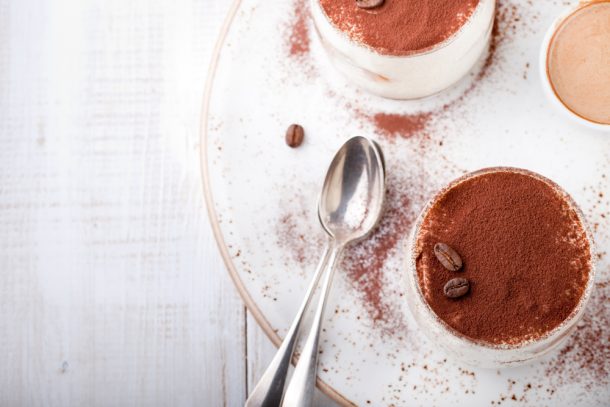 Ingredients
Method 
Step 1. Make your coffee as per your classic Tiramisù recipe.
Step 2. While the coffee cools off make your cream. First, beat the egg yolks with half of your sugar until you get a creamy mixture.
Step 3. In a separate bowl place the mascarpone cheese and soften it with a wooden spoon. Add the egg cream and mix well, slowly, folding in all the ingredients.
Step 4. Now beat your egg whites in a separate bowl with an electric beater and add the rest of the sugar. Once they form soft peaks, add them to the mascarpone cheese mixture by folding in gently.
Step 5. Assemble your tiramisù like in the classic version but add a layer of chocolate spread before placing the mascarpone cream. Do this for all your layers.
Step 5. Make sure your last layer is done with the cream but this time sprinke on your topping to decorate. Place in the fridge for at least an hour before serving.
---
Pin for later: