Heading to the seaside in Italy this summer? Make sure you read our quick guide to Italian beach etiquette before you go so that you blend in seamlessly with the locals!
1) What to wear 
The key word here is 'glamour'! Many Italian ladies will pack a range of swimwear, pareos, beach dresses, flip flops (often with heels), sandals, sun glasses, jewellery, hair clips etc for their stay at the beach. It's not uncommon for them to change swim wear after each dip in the sea or for their afternoon session when reappearing post siesta. Bikinis should of course be well rotated during the holiday – at least remember not to wear the same one two days in a row!
Don't worry too much about your beach body – although you will naturally be surrounded by impossibly toned, tanned bodies, there will also be plenty of middle aged and elderly ladies who are full of confidence and totally self-possessed… for that reason look gorgeous in their bikinis whatever their size or shape!
Although one piece swimsuits have seen a mini comeback recently they are generally only acceptable if they have bits cut out here and there and are super glamorous! Generally everyone under eighty will choose a bikini! For the gents there is slightly less emphasis on beach fashion but the obligatory tiny Speedos are still strangely popular.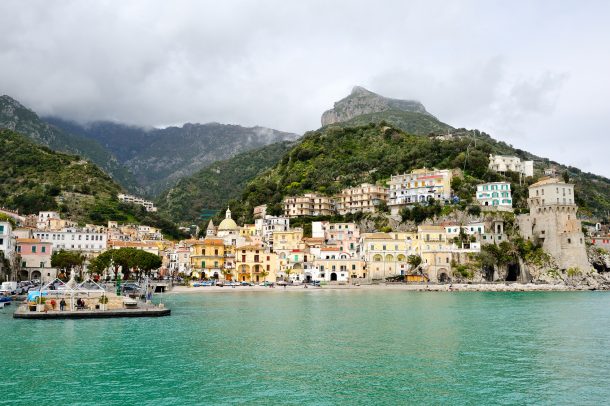 2) Sunbathing
A sun tan is still 'de rigeur' in Italy (think Silvio Berlusconi) and although sun cream is slightly more popular nowadays it's generally only applied for the first few days of a holiday! Make sure you buy it at the airport by the way as it's very pricey once you get there.
As many Italians (especially nonni, teenagers and children) spend at least a month at the beach and naturally, without any effort, turn incredible shades of golden brown, it goes without saying that you will be the whitest person around and you probably won't catch up. So, as the sun really is very, very hot, lather on the cream, try not to burn and accept your Mozzarella legs!
Italians have an ability to lie for hours and hours in the sun, seemingly without any discomfort. In the same vein they are able to run around playing football for 90 minutes with bare feet on boiling sand as if they are playing for Juventus in the Champions League final!
3) Public or Private?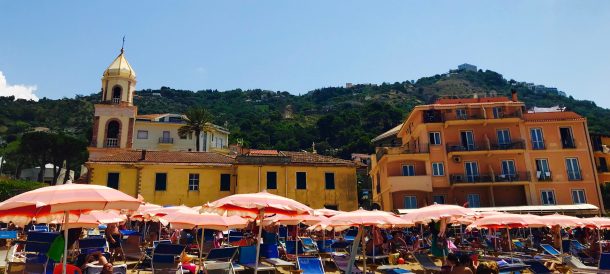 Be ready to forego your personal space – whether you choose a public Italian beach (spiaggia libera) or a private one (stabilimento), you most likely won't have any at all! Even if you arrive early and set up camp on an empty beach, you can guarantee that the extended family which arrives next will all deposit their towels about two centimetres away from your nose!
Public beaches are the free ones where you won't see regimented rows and rows of the same colour umbrellas but instead a multi-coloured jumble of them as close to the sea as possible, with very little sand visible in between. If you choose a public beach you should go armed with your own umbrella (ombrellone), at the very least for a little shade. You'll find these in beach shops for around 15 Euros each. Italian families heading for the public beach will normally also bring chairs, sunbeds, paddling pools, inflatables and bags of toys!
'Stabilimenti' are privately run pieces of beach with varying amounts of facilities. Most will have umbrellas and sun beds or deck chairs for you to rent (on a daily, weekly or monthly basis), a shower (often to be paid for separately with a token), toilets, a bar and a 'bagnino' or life guard/distributor of sunbeds. Some have restaurants, children's play areas and even swimming pools.
If you are renting an ombrellone just for a day, the bagnino will most likely tell you VERY apologetically that he has no prime positions free in 'prima fila' or the first row of umbrellas, as these are generally reserved for the month by locals with seasonal passes. He will expect you to be suitably disappointed!
When possible look for 'Blue Flag' beaches which have been internationally recognised for their clean waters and safe bathing areas.
4) Families and Food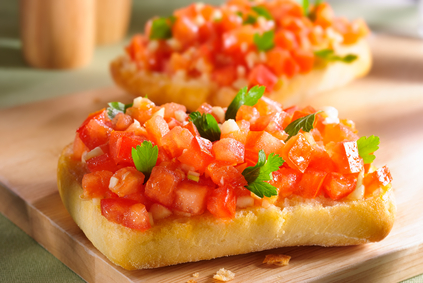 You might feel like Billy-no-mates on an Italian beach as no self-respecting Italian comes to the sea without a huge entourage. Italians are at their happiest in the company of lots and lots of people and the beach is no exception. There will be huge gangs of friends and enormous family groups including tiny week old babies and 95 year old nonni. Generally speaking large groups do mean lots of chaos and noise so don't be surprised if you can't really concentrate on your new novel!
There is often the option to eat at the beach bar or restaurant (panini, pizza slices or pasta), this is a good way to get some shade and respite from the heat. Families with small children will either head off home for lunch and a snooze or eat home-made sandwiches and fruit on the beach.
Generally between 1 and 4pm beaches will empty and there will be almost no one in the sea. It is still widely believed that you should not swim for at least 2-3 hours after eating so this gives parents a great excuse to get their kids to have a nap and allow them some well-deserved peace and quiet!
5) Beach Vendors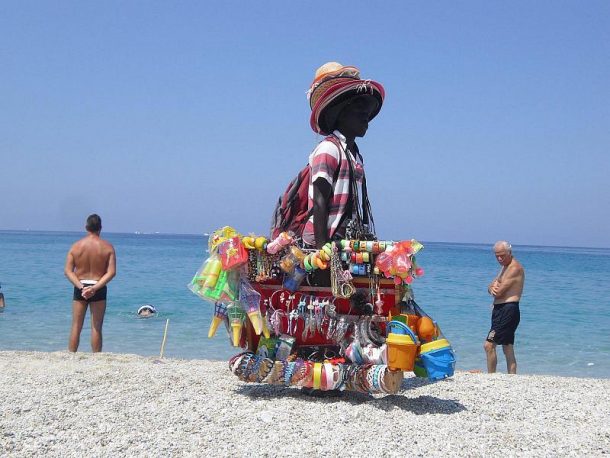 Depending on whereabouts in Italy you are,  you will be approached by passing beach vendors every few seconds/minutes/half hour. Most sell cheap bracelets, hair accessories, sunglasses, sundresses, hats etc which can be useful at the start of your holiday; some have more expensive jewellery, fake watches and bags, others announce their fresh coconut 'Cocco bello' or even heavenly warm doughnuts!
Note that from this year it has become illegal to buy fake designer goods from these vendors with possible fines of up to £6000. Stay away from the Gucci bags and Dolce & Gabbana watches and remember that same fine applies if you pay unauthorised vendors on beaches to braid your hair, give you a massage or one of those fake tattoos that seem a good idea at the time!
What have we forgotten?! Share your memories of Italian beaches with us in the comments below!