Over the last couple of weeks the spotlight has been on one particular Italian gentleman: Claudio Ranieri, ex Italian football player turned jubilant Leicester City Manager. The newly crowned King of Leicester was born and raised in one of the oldest but less well known neighbourhoods of Rome – Testaccio, home to some of the best Roman cuisine in the capital. So we thought we would take a gourmet tour of the very place he popped back to last weekend to visit his mamma!
Claudio Ranieri's Testaccio: The Real Heart of Rome
Located in the South East of the city on the right bank of the Tiber River, Testaccio is a historic, lively district of Rome. The area takes its name from the big hill there (Monte Testaccio or Mount of Shards), made from discarded fragments of Roman amphorae containing mostly olive oil which were transported up the Tiber to Testaccio from the port of Ostia back in the 3rd Centrury AD!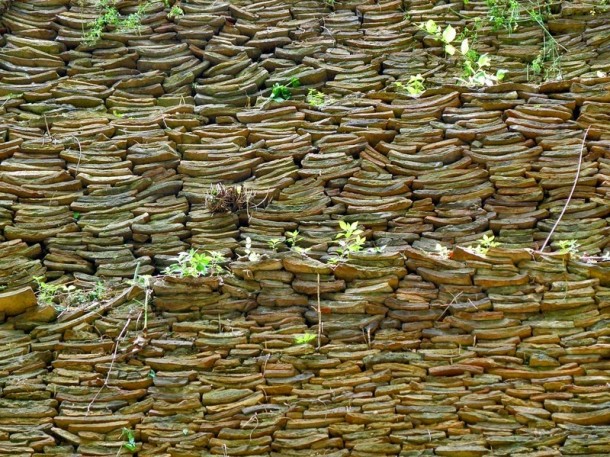 Testaccio is the area of Rome where the slaughterhouses and the local general markets used to reside. Nowadays, it has become a popular and hip area with many pubs, bars, independent theatres and arts schools. Even one of the most famous modern art museums of the city, the Macro, is located in this area. In this amazing quarter there is one of the best Roman markets and some of the most authentic restaurants of the capital serving typical Roman cuisine.
We will be taking you on a short tour of some the best places to eat in Testaccio and recommending the best Roman dishes, (sure to be firm favourites of Claudio Ranieri) to sample at each one.
1) Try Carbonara and Amatriciana at Trattoria Perilli
Via Marmorata 39.
Trattoria Perilli, located in the main street of Testaccio, is famous for a long list of typical roman foods, from Puntarelle (a bitter vegetable) to Agnello scottadito (chargrilled lamb), but their pièce de résistence is definitely Pasta alla Carbonara which they make using their own pork cheek, smoked by their family up in the Amatrice mountains. Carbonara is made with raw egg, pork cheek, pecorino cheese and pepper. The Perilli family will mix the egg and the pasta right in front of you in the traditional cuccumelle, a deep earthenware dish, and once the gourmand is spotted, the last pasta portion will be served to him in this very same container!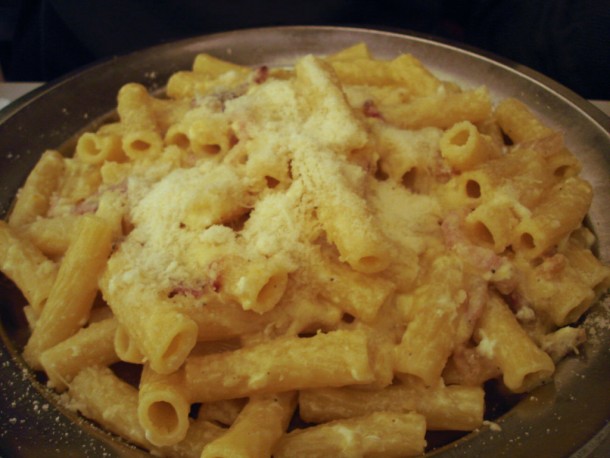 The Amatriciana too is amazing here – another pasta dish made with a tomato sauce, pork cheek, pecorino cheese and pepper. The word Amatriciana is believed to have been named after city Amatrice, an area of the Marche region that was donated by the Italian dictator Mussolini to the Lazio region.
Via Marmorata 28.
These two Roman specialities are both, unusually for Italian pasta dishes, made without the addition of tomato sauce.
Cacio e pepe is a Roman emblem in the pasta field and, even if the ingredients look simple and easy, it is quite difficult to master it to perfection. In this particular case long pasta must be cooked al dente and mixed quickly with the pecorino cheese and pepper to make a mouth-watering, creamy sauce without drying it out or overcooking the pasta.
Gricia, on the other hand, is similar to an Amatriciana but without the tomato sauce.
Both dishes are made to perfection by Ristorante Consolini; a landmark in Testaccio which is also well known for more modern but still top quality Roman cuisine. The restaurant has a classy atmosphere and is perfect for savouring Rome's traditional dishes while on a romantic date.
Via di Monte Testaccio 30.
Trippa alla Romana – or Roman style Tripe – is an historical dish of the roman tradition. It is made with fresh tripe, which is slow cooked in a thick, tasty tomato sauce with pepper and pecorino cheese. A dish of the Roman 'Cucina Povera', the Trippa alla Romana is rich and full of flavour and should be eaten right away on an empty stomach to appreciate its rustic flavours.
Cecchino dal 1887, as the name says, has been around for a while. An institution in Testaccio, Cecchino prepares amazing Roman foods with the care and attention to detail of traditional roman home cooking. Cecchino is family-run business as many in this part of Rome are and is truly worth a trip.
Via Amerigo Vespucci 28.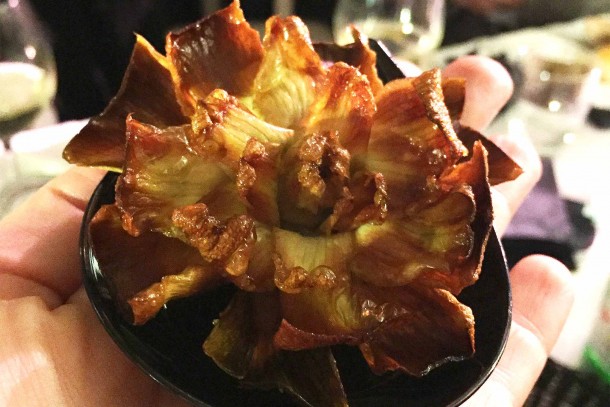 The Antico Forno specialises in Carciofo alla Giudia, wonderful deep fried artichokes which are crisp on the outside and tender on the inside and typical of the roman Jewish community.
5) Experience Saltimbocca alla Romana at Lo Scopettaro
Via Lungotevere Testaccio 7.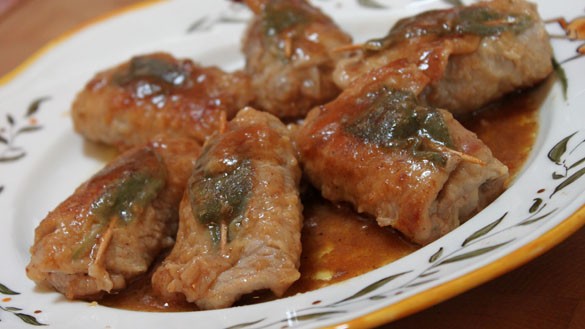 This restaurant makes the meanest Saltimbocca alla Romana, a meat dish made with slices of veal pan fried with sage and ham. Saltimbocca literally means 'Jump into your mouth' and is a real Roman speciality.
Lo Scopettaro is a milestone in Testaccio: the story goes that it used to be a broom shop until one day, the wife of the shopkeeper cooked pasta with beans for him inside the shop. The delicious aroma of his lunch caught the attention of many passers-by who wanted a taste. In time the owners started to cook for them too, turning the broom shop into a renowned restaurant. A legend worth believing!
Via Ostiense 54/56.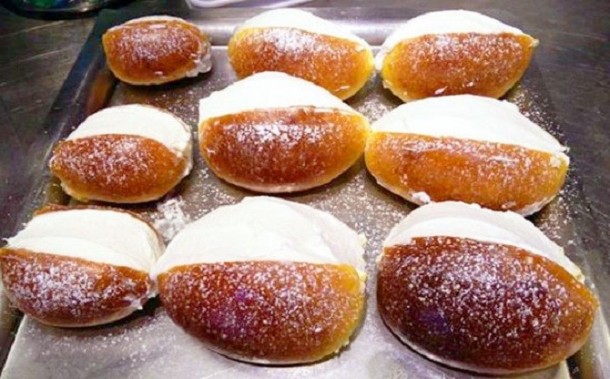 After experiencing all of these amazing Roman recipes you might need to head off and have a coffee with a something sweet.
Pasticceria Andreotti is the place to go to taste some heavenly Roman desserts. We recommend the luscious Maritozzo con la Panna, a chewy brioche-like pastry filled with whipped cream
Here at Pasticceria Andreotti you can have anything you desire: chocolate desserts, cakes, croissants and savoury bites: you name it – the perfect end to a gourmet tour – and we are sure that the King of Leicester would approve!
Have you been to Rome? Did you visit Testaccio and have some suggestions to add to our Gourmet Tour of Testaccio? Add them in the comments below 🙂