The bad news about what's in the wine we drink
Over the years, wine making has gradually become more and more industrialised. Chemical pesticides are widely used in its production, from the cultivation of the vines all the way up to wine bottling.
Strangely, wine is one of the few food industries that is not regulated by labelling laws, so we don't actually know what has been added to our favourite tipple.
In Italy, the 2015 investigation by the 'Legambiente' reported that at least 42% of the wine samples tested during their research were contaminated by pesticide residue.
In France there is technically no law to determine the standard amount of pesticides allowed in wine production. This means that there is no limit to the number and varieties of pesticides a French wine producer can put into his wine. A recent report there stated that the residue of at least one type of pesticide was found in EVERY bottle of wine tested.
Even if you don't drink wine, you can still be affected by the pesticides used in its production! Chemicals from vineyards can spread quickly in the air so you could be breathing in these substances without realising!
The good news about a healthier alternative
The natural wine industry is growing and could bring great benefits, not only to wine consumers, but to the environment overall.
Natural wine means no use of chemical pesticides and very low intervention in the cultivation and making of wine. Natural wine is the philosophy behind the production of organic and bio-dynamic products in every phase from the vineyard to the winery. Rather than trying to control every aspect of nature by chemical intervention, natural wine production advocates embracing nature.
Choosing small, family run, natural producers will give you the security the product you are consuming is healthy and environmental friendly. For the small producer it's not just about producing as much wine as possible at the lowest cost.
Most natural wine is low in sulphites and anecdotal evidence indicates that this means less side effects from its consumption, which can only be a positive!
The old-fashioned way of winemaking takes us back to the ancient, original taste of the fermented  grape juice. It's the way it used to be when it simply came from the earth and capable hands of the winegrowers – natural!

Learn more about natural wine at the Real Wine Fair during Real Wine Month and take advantage of our limited offers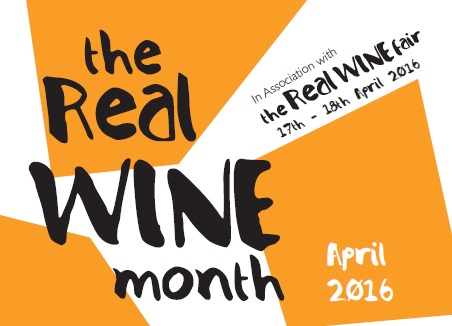 April will be entirely dedicated to promoting organic, biodynamic natural wines throughout the UK. Over 250 restaurants and wine wholesalers, as well as independent sellers, within the context of the Real Wine Fair, will be supporting natural wine tasting, offering discounts on their selection of organic wines which will also be featured in the fair itself.
This event aims to inform consumers about all the options regarding natural, non-pesticide contaminated wines and to offer them the opportunity of sampling some of the very best on the market.
The Real Wine Fair will take place in Wapping on the 18th and 19th of April 2016, from 10 am to 6 pm. Tickets are available here for £15.
We'll be participating in Real Wine Month by offering an online discount on our own selection of organic wines. We are offering a 10% discount on both single bottles and our 6-pack wine boxes. Hurry up and get your taste of natural wine at a very special price! This offer will only last for this month.
Have you tried natural wine? What did you think? To find out more read our article about organic wine. Also, stay tuned to our blog to read about the Real Wine Fair. We will be there with our staff to sample, review and list the best natural wines at the stands!