One of the most well known, traditional products of Calabrian cuisine,  "Nduja" is a lean meat salami, made with lard and natural aromatic ingredients (black pepper and sweet or spicy red pepper). Soft, creamy and bright red (due to the high concentration of chilli peppers), this traditional Calabrian treasure is gaining more and more popularity due to its rich and aromatic taste. Want to give it a go? Why not try one (or more!) of these recipes with 'Nduja sausage.
1. Pasta with Nduja, peppers and Pecorino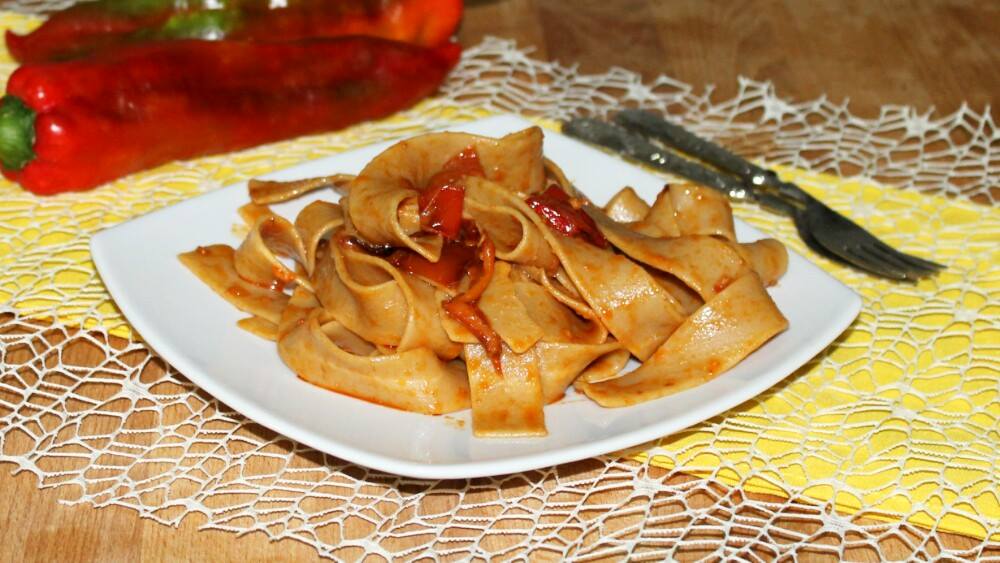 This is a tasty first course dish, rich in taste but not overly spicy. The 'Nduja is counterbalanced by the sweetness of the peppers and the pecorino cheese, both of which are excellent co-stars in this recipe.
INGREDIENTS for 4 people
400 grams of pasta such as papardelle or fusilli bucati
400g San Marzano tomatoes
4 tablespoons of extra virgin olive oil
1 clove of garlic, basil and parsley
2 chopped peppers
40g of Pecorino in thin flakes
80g of 'Nduja
A pinch of salt.
Method
In a frying pan, prepare the sauce by combining the oil, tomato cubes, garlic, peppers, basil and salt.
Cook for about 15 minutes, then add the 'Nduja spicy sausage, mix well and continue cooking for another 3 minutes.
Meanwhile cook the pasta, drain it, place it in the pan and mix it with the sauce.
Serve with a sprinkle of pecorino and parsley. 
2. Pizza with Nduja and Gorgonzola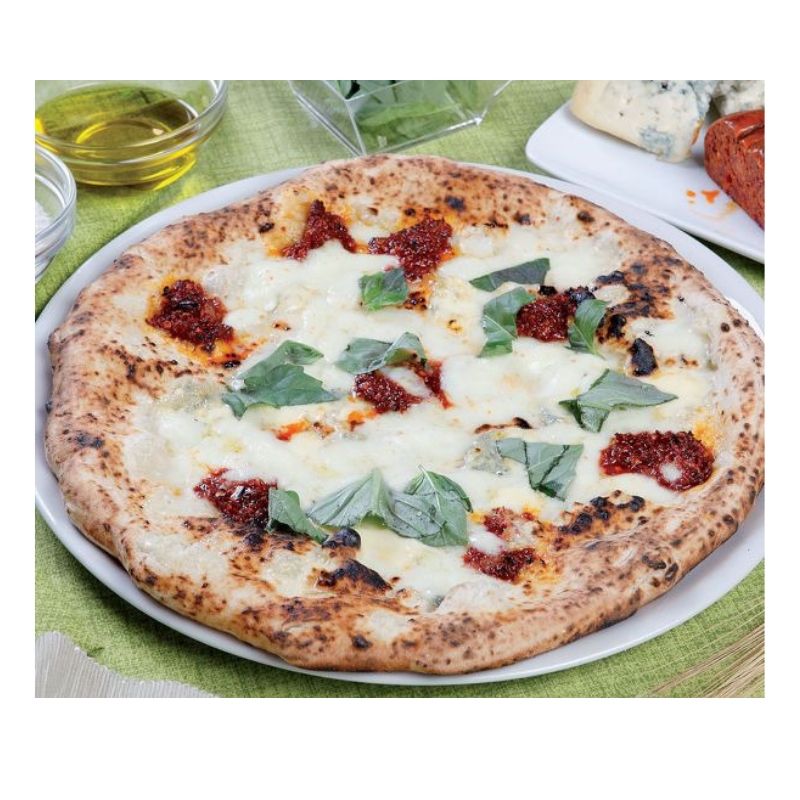 Follow our very own pizza recipe on the Vorrei blog and then top it with a heavenly mixture of Northern and Southern Italian ingredients. With this combination of tasty toppings, we guarantee that this will be a pizza that you won't forget in a hurry.
For the topping:
150g Buffalo Mozzarella
150g Gorgonzola
50g 'Nduja spicy sausage
Basil
Olive oil
Break the 'Nduja into small pieces and distribute across the pizza (not too close to the edge), then add the mozzarella (shredded into pieces) and finally the Gorgonzola (also cut into small pieces)
Add a drizzle of olive oil and finally some torn basil leaves.
3. 'Nduja Breadsticks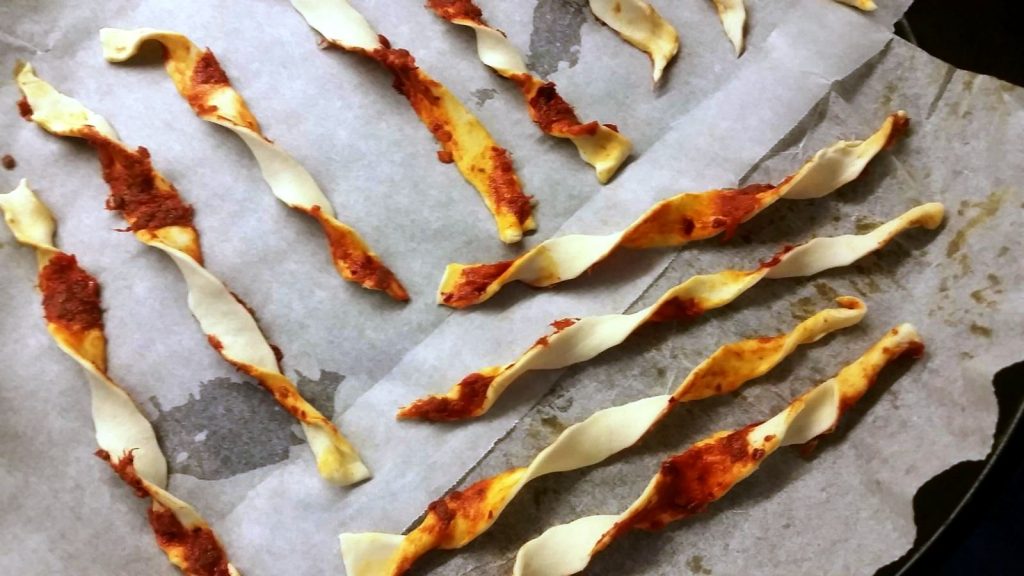 For an aperitif with a difference, try 'Nduja breadsticks. Simple and delicious, they are a perfect companion to any cheese board.
INGREDIENTS
2 square puff pastry packs
60 g of  'Nduja spicy sausage
100 g of black olive paté
1 egg yolk
2 tablespoons of milk
Some sesame seeds and poppy seeds
METHOD
Using a fork, work the 'Nduja until its consistency becomes creamy and paste-like.
Unroll the first roll of puff pastry.
Spread the 'Nduja over the pastry, covering it all.
With a sharp knife cut the puff pastry in half by width.
From the two parts obtain strips of 3 centimeters long.
Roll the strips to give them the shape of breadsticks.
Repeat the same procedure with the black olive paté.
Place the breadsticks on a baking sheet.
Beat the egg with milk and brush the mix on the breadsticks.
Sprinkle with poppy seeds and sesame seeds.
Put in a preheated oven, at 200 ° C for approximately 10/15 minutes (different oven types may require different baking times).  
4. Bruschetta with 'Nduja & anchovies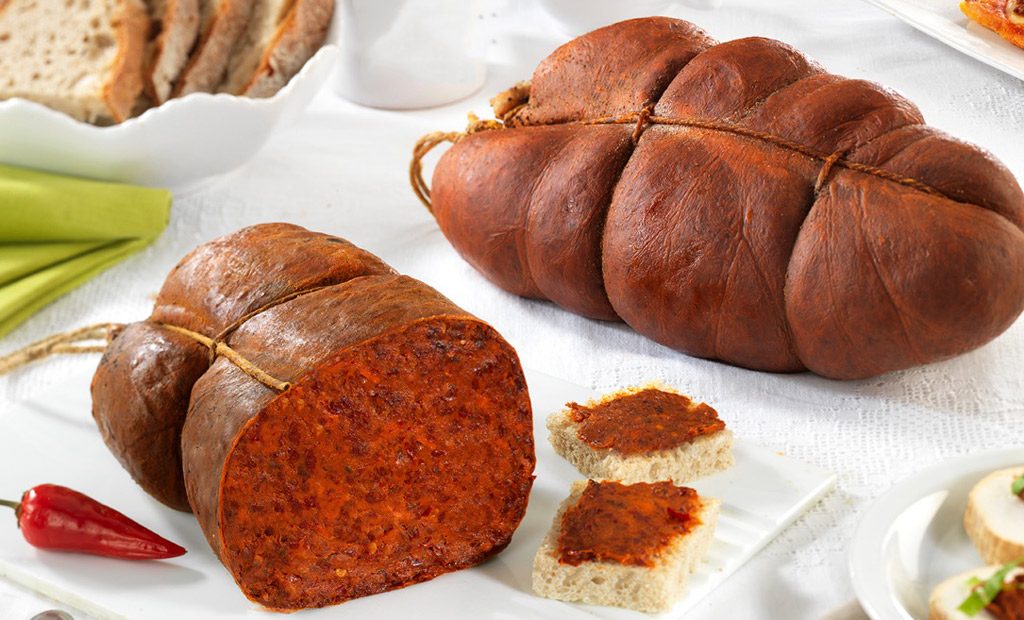 Like to add some fish to your dishes? A bruschetta with 'Nduja and anchovies is a spicy and . delicious addition to your antipasti spread.
INGREDIENTS
Ciabatta Bread
'Nduja spicy sausage
Anchovies
Method
Cut the Ciabatta bread into slices about 1/2 cm thick.
Heat the grill to about 180 degrees, and put the bread under the grill until it is slightly golden on both sides.
Place them on a cutting board or plate.
Spread the 'Nduja sausage on the pieces of bread.
Season them with one slice of anchovy.
5. Aubergine and 'Nduja meatballs
Aubergine and 'Nduja meatballs are often served on Calabrian dinner tables. Serve hot, as an appetizer or as a second course. Be warned though: one definitely leads to another!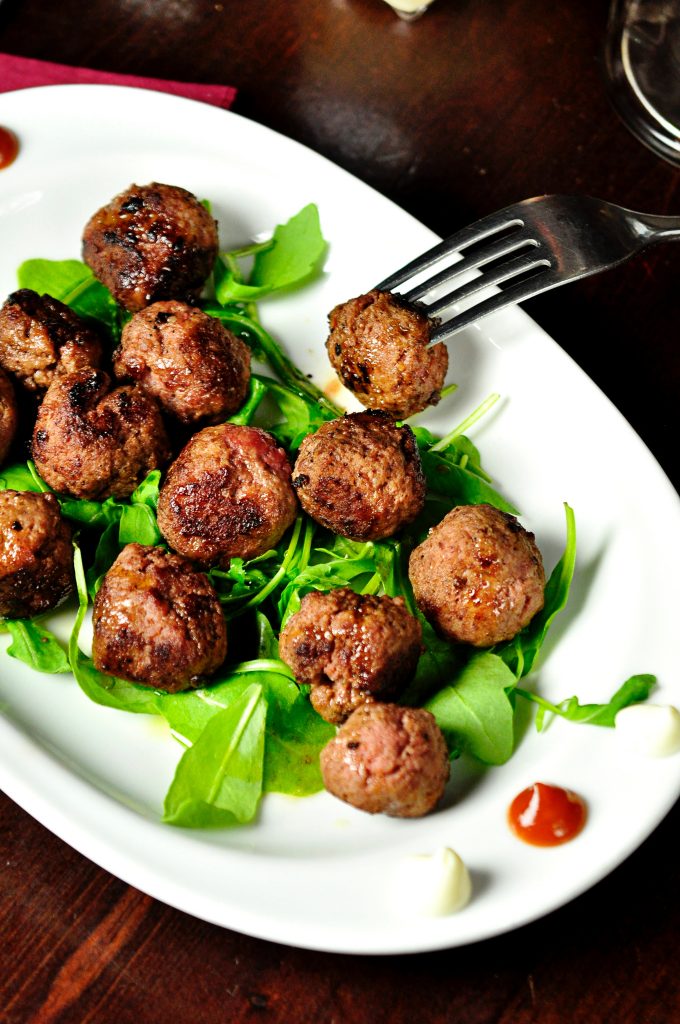 INGREDIENTS
1.5kg aubergines
100g grated Parmesan cheese
60g fresh Pecorino cheese cut into cubes
30g 'Nduja spicy sausage
100g stale bread
5g of mint
A clove of garlic
1 free range egg
Milk to taste
Breadcrumbs to taste
Extra virgin olive oil
METHOD
Cut the aubergines in quarters and boil them in plenty of water for about twenty minutes until they become soft.
Drain and wait for them to cool down.
Once cooled, squeeze them thoroughly to remove excess water and place them in a container.
Soak the bread in a little milk, squeeze it and add it to the aubergines together with the grated parmesan, the crushed garlic, the chopped mint and an egg.
Mix the ingredients together with your hands until they form a dough and season with salt.
Add a handful of breadcrumbs in order to firm up the mixture, which should be very soft.
With your hands make large balls crushed and insert a cube of pecorino and some nduja inside.
Cover the meatballs with breadcrumbs.
In a pan pour plenty of extra virgin olive oil and heat.
Once it is hot, dip the meatballs inside, a few at a time so that the oil maintains the right temperature.
Fry them until they are golden brown all over, then place them in a serving dish lined with kitchen paper so that it absorbs any excess oil. Serve immediately.
Whether or not you have already tried 'Nduja, these recipes will get you falling in love with this Southern Italian speciality. By being able to use it in so many different ways, you are sure to give your diners a delicious experience, straight from Calabria!